The Crepes of Wrath: Profile of a New York Food Blog
BlogHer Original Post
Say hello to Sydney Kramer, a newlywed and a food blogger from Queens, New York. One of Sydney's recipes went viral on StumbleUpon last year, generating 167,000 pageviews! Read on for Sydney's take on how that happened, it just might surprise you!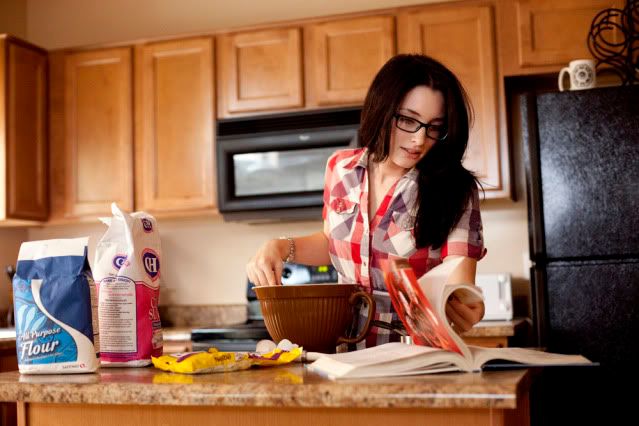 THE BLOGGER:
Name – Sydney Kramer
Hometown – Queens, New York
Sharing Your Table – Family, friends, myself!
About the Name – "I wanted something funny that incorporated food in its name."
First Post – May 2008
How Your Blogging Has Changed, Then vs. Now – "I've learned a lot about how to take a good picture, although I'm still working on it and have yet to get a DSLR. I've learned how to create my own food on a whim and honestly, to appreciate food. It's a huge part of my life."
How You Define Your Blog– "I call it a food blog, but it also has recipes. I try to post wholesome meals that you can cook when you're in college or for a family of five."
"Elevator Description" – "No frills; you can buy all of the ingredients at your local supermarket. It's everyday food on an everyday budget."
Standing Out from the Crowd – "I take step-by-step photographs, I consistently update three times a week (save for this past January when I got married, went on my honeymoon, and moved to New York), and I try not to use too many ingredients, as well as try to use as few pots and pans as possible in my recipes."
"Hobby Blog" or a Step in Your Career Plan? "A little of both. I've never had any formal training and I don't plan to go to culinary school, but I'd love to do something with food in the future, be it working in an actual kitchen or doing something with food writing."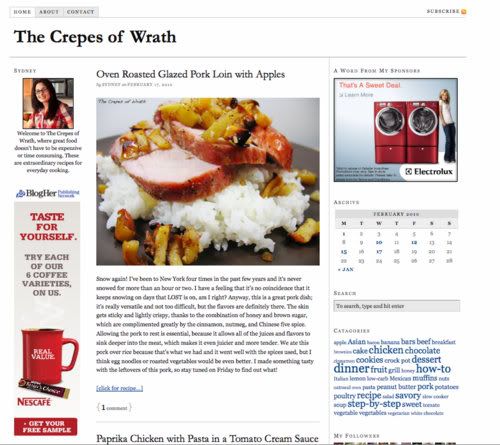 TECHNICAL STUFF:
Blogging Platform – WordPress
Hosted By – "Host Gator; I highly recommend them."
Ad Network – BlogHer Publishing Network
STATS:
Statistics Package – WordPress and Google Analytics
Success Measurements – Page views and average pages visited
Tools to Attract Visitors – "I promote my blog everywhere I can: LiveJournal, Twitter, Foodgawker, Tastespotting, Facebook, Savory Sights, etc."
Reader Profile – "People with the same food mentality as myself; easy, relatively inexpensive, and full of flavor!"
POSTS:
Posting Frequency – Three times a week
Favorite Post This Year – Restaurant-Style Orange Chicken. "It's SO good, I've made it many times since I first posted it on my blog."
Surpringly Popular – Drunken Irish Stew. "StumbleUpon went crazy for this post ... no idea why!" [Alanna's note: I remember this post hitting StumbleUpon. The description was something like, "Terrible name. Great recipe."]
Deciding What to Post When – "I generally post in chronological order of when it was made, unless I made something for a particular holiday, in which case I post it when appropriate."
Recipes That Don't Work Out – "I don't post anything that I don't like, and believe me, there are more than a few of those! If I just feel it needs some work, I usually try it out again before I post it."
Cooking Groups – "I did Daring Bakers for a few months, but it was expensive and time consuming, especially at the time when I was working, going to school, working on my blog, and everything else."
Time Spent on a Single Post – "It's hard to say. I think on average between cooking, taking photos, editing photos, writing, and promoting ... it's probably between three to four hours per post, maybe more if it's something complicated."
Time Spent Blogging including Twitter and "Community" – "Around 15 hours a week, maybe a bit more."
PHOTOS:
Camera & Lenses – "I have a Canon A640 Powershot. I plan to get a better camera sometime soon, but I haven't had the opportunity yet."
Location – "I usually shoot in my kitchen or near a window, if I can coordinate my cooking around daylight. I shoot wherever I can."
Photo Style – "My photo style? Hmm ... I don't know. I don't really know much about photography! I just chose the photo that looks most appetizing to me and has the best light and color."
Personal Photo Trick – "I use my macro setting (very obviously), I have a makeshift diffuser set up on my lights ... and that's about all of the tricks I have up my sleeve. I'm very green when it comes to photography."
Favorite Photo This Year – Muffins with strawberries
RECIPE INSPIRATION:
Sources of Inspiration – "Definitely other food blogs, but I don't watch food-based TV (save for Top Chef and No Reservations, both of which I adore) and I don't have a lot of cookbooks, so I think I get a lot of my inspiration from people, places I've been, and my own personal cravings."
FRIENDS
Blogs in Your Feed Reader – "Hundreds!"
Three Sites You Love, for Inspiration – Smitten Kitchen, Closet Cooking, Ezra Poundcake
Three Bloggers You've Met in Person – "None! I hope to change that though, especially now that I've moved to New York."
COMMUNITY:
Community Contributions – "I post on networking sites, Tastespotting, Foodgawker, etc., but up until now, I've been very busy and never had a lot of time to spend even working on my blog. Let me know how I can contribute, people!"
SOCIAL MEDIA:
BlogHer food editor Alanna Kellogg is on vacation but -- thank you, technology! -- her recipe websites keep on publishing. Check for the latest recipes at Kitchen Parade and A Veggie Venture.
More Like This
Recent Posts
by Alanna Kellogg
Our bloggers include LISTERINE Antiseptic in their regular oral health routine. See why and get a chance to win $100.
Read more