Dairy Free Hot Cocoa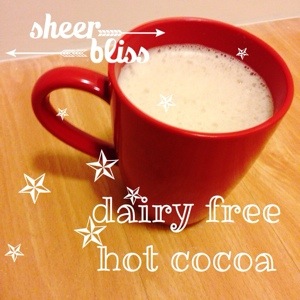 Just when we thought spring was right around the corner, winter snowstorms keep coming bringing back my cravings for hot cocoa! Ever since I was a kid I've absolutely LOVED hot chocolate! Never was a big fan of chocolate milk or sugary beverages, but once the temperature got low, I craved that sweet, body warming goodness all too frequently!
Of course, I needed to come up with a healthier alternative and a dairy free one to boot! So once the NYC winter temps started rearing their ugly heads again this week, I got to experimenting! Oh, such hard work I had to do, drinking all this dairy free hot cocoa! Here's my favorite concoction – the picture does not do it justice! Sadly my whipped coconut cream and sprinkles of vegan, gluten free chocolate chips melted and sunk to the bottom before I could grab the camera. However, I'm sure you'll be seeing a lot more of these beauties on Instagram this winter!
Dairy Free Hot Cocoa
ingredients per single serving
1 cup of almond milk
3 tbsps of unsweetened cocoa powder (my favorite is Valrhona Cacao powder!)
1 can of coconut milk
Handful of mini chocolate chips
Easy as pie to make! First, pour your can of coconut milk into your mixer, place a towel over the head and keep it whipping at medium speed. This will whip your coconut milk while you heat your hot chocolate. If your coconut isn't getting thick you can add a tsp of xantham gum to help it along. Next, heat your almond milk on the stove in a small saucepan and stir in your cocoa till it's your favorite temp and chocolatey-ness. When your hot cocoa is done, place it in a mug, dollop some of your whipped coconut milk and sprinkle some mini vegan chocolate chips! Now you will have a delicious, sweet winter treat with out all the bad stuff, so you can enjoy it guilt free!
ADD A COMMENT
Recent Posts
by cassandrabodzak
Most Popular
Chateau Ste. Michelle ALWAYS delivers remarkable wine experiences. We asked our bloggers to try Chateau Ste. Michelle wine and share the story behind their perfect sip. Read their reviews plus get a chance to win $100!
Read more
Latest comments
The enamel of baby teeth and new adult teeth is vulnerable to damage. Help protect your child's teeth for years to come by using ProNamel 6-12 Years Toothpaste. Read our bloggers' posts and see you should start your kids with using ProNamel 6-12 Years Toothpaste plus get a chance to win $100!
Read more