Dare to Be Great
I stayed up all-night from April 18th to the 19th following the search to catch the men responsible for the carnage at the marathon on television and social media. I was fascinated by how Twitter and Reddit seemed to always be a few steps (and about a half hour) ahead of the major networks and cable news channels reporting developments. However, as one might expect, it was challenging to determine if leads seemed credible, at times.
I found the experience compelling and those trying to solve the mystery and help track down these men amazing. I felt like I was a part of the whole thing and daring to be great too. Here's an excerpt from my Spring Shed: Week Five post, which I wrote on April 19th, after going without sleep the night before.
I originally wrote this post on Thursday evening. Just as I was finishing it up after 10:00 p.m., I happened to check Facebook and Twitter only to find out about a shooting of a police officer on the MIT campus. That led to me following all forms of media, from cable news channels to social media, though mostly Twitter and discovering slowly throughout the night/early morning what the shooting led to, which as I imagine you all know by now, was the capture and death of Boston Marathon Bombing Suspect #1, with Suspect #2, and possibly one or more accomplices, still on the loose. As I tweeted at one point in the wee hours of the morning:
As a SAHM, who moonlights as a writer/blogger, this has been one crazy night for journalism... #boston #truthistrangersthanfiction — Kathy Benson (@BereavedBlessed) April 19, 2013
So I actually pulled my first all-nighter since October 14 - 15, 2012, when I stayed all up night to finish this in time to be able to post/share in honor of National Pregnancy and Infant Loss Remembrance Day which is observed annually on October 15th. Before that I don't recall the last time I stayed up all night, it had probably been years.
It's surreal to reflect on this time last year and how much has transpired since. I have read and heard many more stories of those who dared to be great in the aftermath of the Boston Marathon bombings, whether as caregivers or survivors.
Six months after the Boston Marathon, I attended the Chicago marathon with friends, again as a spectator, to cheer on three loved ones who were daring to be great and run 26.2. There was a part of me who feared copy cats coming to the race and trying hurt people, especially me or those I know and care about. But I knew that security was high and the odds were in our favor. I wasn't going to let my fear hold me back.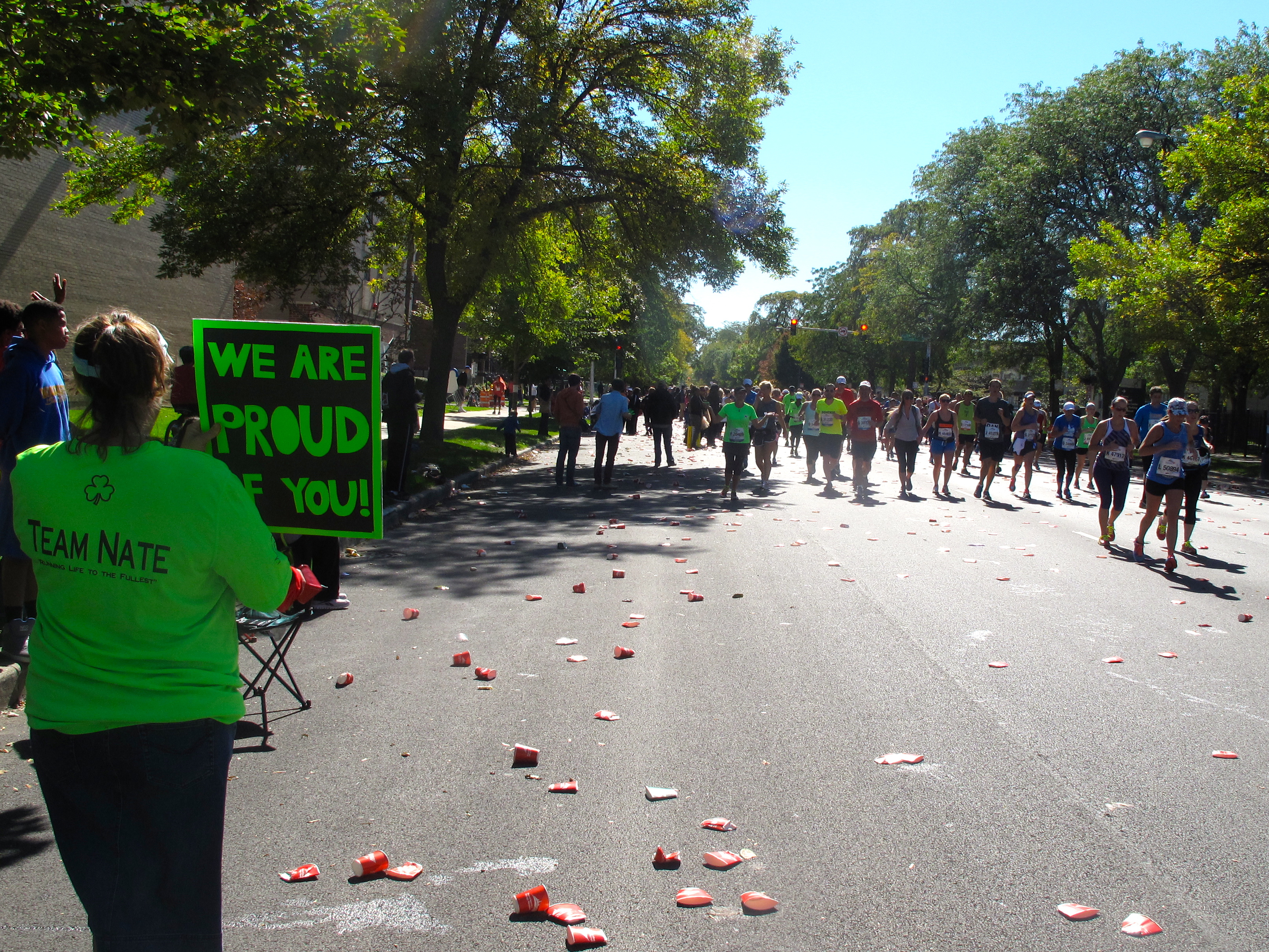 It was another awesome experience to be there for my loved ones as they ran. I thought often that day about what happened in Boston in April and all that has taken place since.
I don't know of I will ever desire and train to run a marathon, but I continue to be inspired by all those I know who dare to be great and do. I also believe that cheering on runners is another wonderful way to dare to be great, helping those going for 26.2 or 13.1 or even 3.1 to feel our love and reach the finish line.
~~~~~~~
Some people make a conscious choice to dare to be great, like Lloyd Dobler in Say Anything, and others rise to the occasion when faced with circumstances beyond their control, like those at the Boston Marathon last year.
Wherever this post finds you, I encourage you to dare to be great too.
You can reach out to someone you want to connect with, train to run a race, support loved ones, or attempt something else that you feel called towards.
Dare to be great.
Cross-posted on my blog.
Kathy Benson
Blog: Bereaved and Blessed
Twitter: @BereavedBlessed
Comments
More Like This
Recent Posts
by Kathy Benson
Help protect your family from the transmission of harmful bacteria and viruses! Use Lysol's Full Bathroom Range to remove soap scum, lime scale, and everyday dirt and grime to leave your bathroom smelling clean and fresh.
Read more
Most Popular
on Current Events
Recent Comments
on Current Events