The Dark Side of Summer
Swimsuit season is almost upon us. It's the dark side of summer for many women, particularly once Father Time starts conspiring with gravity.
Despite inevitable aging, I am generally comfortable with my middle aged body. To be more specific, I am generally comfortable in my fully clad middle aged body.
A swimsuit covers roughly the same amount of skin as underwear. This is not fully clad, unless you're a stripper. While a one-piece or a tankini hides the midriff, the fabric is so tight that you might as well be baring it. There is no sumptuous material skimming over rolls and bumps, and no blousing out the top to hide the two-pack abs.
And this is where I get uncomfortable. I wear underwear UNDER my clothes. I would never go out in public in just my bra and panties.
(Panties – I hate that word. It's on the list with moist and slacks as words that make me throw up a little in my mouth. Yet "underwear" refers to all undergarments, and I needed to differentiate between bottom garments and top garments. So panties it is. Eeeww.)
So I would never go out in public in just my bra and pa**ies (now it looks like I wrote pasties, which I would not wear in public either). Yet I am expected to wear the equivalent of these garments on the beach and at the pool.
In a classic Brady Bunch episode, wise man Mike Brady advised his daughter Jan to combat the public speaking nerves by picturing her audience in their underwear. Imagining people in their skivvies would make them seem less intimidating, he said, and she would have the confidence to kick ass in her debate.
Big sister Marcia also took his advice, and pictured her driving instructor in his underwear too. It made her laugh, relax, and ace the test.
Would Marcia Brady giggle at me if she imagined me in a swimsuit that is practically underwear? Probably. I always thought she was a mean girl underneath her Miss Perfect exterior. So why would I wear one? Why risk the humiliation?
Because it's hot at the beach and at the pool, and there is comfort in numbers. If everyone is walking around in their underwear, I am much less conspicuous. Unless I have a wedgie. That's cute when you're a toddler, but much less cute when you're me.
So I will reluctantly embrace the dark side of summer. I will slather on the sunscreen, don my swimsuit-that-feels-like-underwear, and top it off with a floppy hat and sunglasses. Then I will sprawl on a lounge chair under a tree and lose myself in a good book.
And hope that bathing dresses come back in style.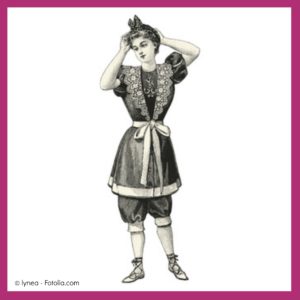 ADD A COMMENT
Recent Posts
by Dana Hemelt
Simply Beverages™ use never-from-concentrate juices in all of their beverages. And they never add any preservatives, colors or artificial flavors. Read our bloggers' posts and find fun beverage recipes you can serve this summer! Plus get a chance to win $100.
Read more
Excedrin® Migraine relieves sensitivity to light, sensitivity to sound, nausea and relieves pain in just 30 minutes. Read our bloggers' posts as they talk about their experiences with migraine and how they cope with it. Plus get a chance to win $100!
Read more