A Day of Remembrance, In Real and Virtual Life
BlogHer Original Post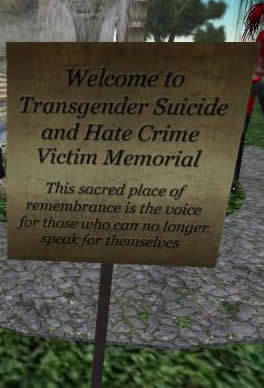 November 20th is the ninth annual Transgender Day of Remembrance. This year's commemoration is taking places in various locations around the globe, as well as in Second Life (SLurl). But while past commemorations were marked primarily by lamentations for the departed and calls for trans-inclusive legislation, some activists are using today to register their frustration with leaders of the gay and lesbian movement who supported a workplace discrimination bill that ignores people who are gender-variant.


Blawg Review has a two-part carnival on transgender issues. The first part focused on the persistence of discrimination, where Dr. Jillian Todd Weiss explained that Nov. 19 was also the 50th anniversary of a little-known holiday, Equal Opportunity Day:


"U.S. President Dwight D. Eisenhower proclaimed November 19 as Equal Opportunity Day, saying: "Let every citizen of the United States, whether an employer or employee, farmer or businessman, join in the effort to abolish all artificial discrimination which hinders the right of each American to advance in accordance with his merits as a human being and his capacity for productive work."
Weiss' insightful survey of legal analyses of current discrimination ranges from laissez-faire racism to the race and gender implications of subprime lending. She goes on to note the divide within the civil rights community over issues of sexual orientation and gender identity that last month's battle over the Employee Non-Discrimination Act made particularly visible. [That bill, which passed the House of Representatives last month, would bar workplace discrimination on the basis of sexual orientation, but offers no protection on the basis of gender identity..] Weiss says:


"This move [passing ENDA without protections for transgendered people] was controversial in the gay community because many gay advocates felt that transgender people are not part of the gay community, that "gender identity" is unrelated to the needs of gay people, and that the rights of millions of gay people should not be held up for the rights of transgender people. On the other hand, about 300 organizations protested the removal of "gender identity" from the bill because it undermined the fairness message of ENDA, because it might allow an interpretation that firing a gay employee because of his or her gender presentation remains legal under the law, and the vote was largely symbolic because the Senate probably will not take up the bill, and President Bush has vowed to veto it as an infringement of religious freedom."


In part two of the Blawg Review, Denise Brogan-Kator recalled some of the victims who were memorialized at a TDOR service she attended in Ann Arbor, Michigan:


"Nakia Ladelle Baker died in January in Tennessee as a result of blunt force trauma to the head. Keittirat Longnawa was beaten by nine youths in Thailand, who then slit her throat. In March, Moira Donaire was stabbed five times by a street vendor in Chile. The body of Michelle Carrasco was discovered in a pit in Chile, her face unrecognisable.

"Ruby Rodriguez was found naked and strangled to death in the street in San Francisco. Erica Keel was repeatedly run over by a car in Pennsylvania. Bret T. Turner died from multiple stab wounds in Wisconsin. Victoria Arellano was refused HIV related medications in California. Oscar Mosqueda from Florida was shot. Maribelle Reyes from Texas was turned away from HIV treatment centres because she was transgender. In July an unidentified cross dressing male was found dead with gunshot wounds to the chest and lower back.

"Once again, we gather to remember. Once again, our hearts and eyes fill as we read the names of those who didn't survive the year. Once again it is time to mourn."


At Shakespeare's Sister, Melissa Mc Ewan observes that transphobia kills not only by violent acts, but through bigoted inaction:


"Lacking federal employment protections, transgender men and women are at higher risk for lack of insurance, adding to the difficulty of securing routine medical care from welcoming practitioners. Transmen in particular can have trouble locating accommodating gynecological services for annual pap smears, risking undiagnosed cervical cancer. The great 2001 documentary Southern Comfort spans the last year in the life of Robert Eads, an FTM transsexual who died of ovarian cancer after two dozen doctors refused him treatment.

"That's the kind of hate crime that doesn't make headlines. Or even federal hate crimes statistics."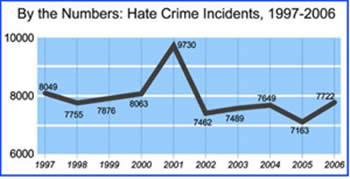 source: FBI
Coincidentally, the FBI's annual hate crimes report is out this week. According to the report, there were 7,722 hate crimes in 2006, up from 7,163 such incidents in 2005. More than half of the victims were attacked because of their race. Just over 15 percent were attacked because of their sexual orientation. The FBI does not currently collect data on hate crimes based on gender identity, but that will change under the Matthew Shepard Hate Crimes Prevention Act of 2007, which cleared the United States Senate in September. Recalling past efforts to get trans-inclusive legislation on the Congressional docket, Brogan pronounced herself impressed by the tenor of the discussion of the Matthew Shepard Act:
"I don't know about you, but I have to tell you that I was deeply moved to hear the respectful tones by which our inclusion in these bills were debated on the floor of the House of Representatives, from people who, a dozen years ago could not even tell you the meaning of the word 'transgender'."
Finally, the pictures accompanying this post are from the 24-hour memorial for transgender victims of suicide and hate om Second Life. Those who wish to memorialize a loved one are invited to leave a message and a candle. (SLurl)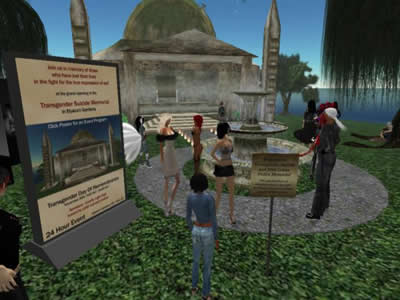 ---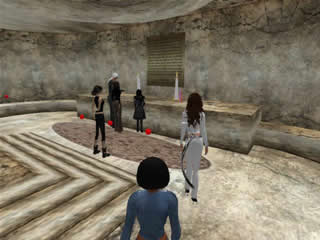 Related posts:
Quench Zine: 2007 Trans Day of Remembrance (via Feministing
Questioning Transphobia: Transgender Day of Remembrance Links
KnuckleCrack: Let's get ready to Grrrumble!
Related Posts
More Like This
Recent Posts
by Kim Pearson
Sparkling ICE is a bold flavored sparkling water that truly delivers on taste and contains just the right amount of fizz. Read our bloggers' posts and get more details on how you can enter the Flavor Face Off plus find out more about the delicious flavors that Sparkling ICE has to offer.
Read more
Most Popular
on Race & Class
Recent Comments
on Race & Class