Default Dinners + Standby Suppers = Happy Cooks
BlogHer Original Post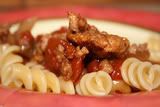 Janelle from the Seattle food blog Talk of Tomatoes returns to familiar recipes to keep her family warm. She calls them "Default Dinners".
She writes: "... this is the time when we bring out the blankets, crank up the heat and draw the curtains. We love being warm and cozy inside while it is blustery, wet and dark outside. This year, my whole family is into it. We turn on some nice jazz music, light a few candles and heat up the stove. When schedules are busy, it is a treat to be at home, together ... "
Get Janelle's recipe for Sausage & Pasta & Tomatoes. Plus she tags her favorite standby recipes Default Dinners so they're easy to find.
Here at Blogher (according to my entirely unofficial spur-of-the-moment completely unilateral executive decision), we call recipes like Janelle's 'Standby Suppers', the quick and easy meals you make again and again. Do you have a Standby Supper? Add a recipe in the comments, below. Better yet, become a Blogher member and write your own post for this site (or if you're a blogger, introduce the recipe on Blogher, then link to the recipe on your own site). Be sure to use the free tag 'Standby Suppers' so that others can easily find your recipe in the Standby Suppers section. Together, we can create a useful resource for busy families!
BlogHer food editor Alanna Kellogg hopes readers will find inspiration for new standby suppers in her own collection of Quick Supper recipes, easy on the budget, the clock, the waistline and the dishwasher.
Comments
More Like This
Recent Posts
by Alanna Kellogg
Help protect your family from the transmission of harmful bacteria and viruses! Use Lysol's Full Bathroom Range to remove soap scum, lime scale, and everyday dirt and grime to leave your bathroom smelling clean and fresh.
Read more
FoodSaver® Reviews & Giveaways
Save time, money and space with the FoodSaver® Vacuum Sealing System! Air is the enemy of freshness and FoodSaver® vacuum sealers remove and lock out air and moisture. It keeps food fresh up to 5x longer! Read our bloggers' posts and know more about FoodSaver® plus get a chance to win $100!