Delicious Oven Baked Seasoned Steak Fries
Delicious Oven Baked Seasoned Steak Fries are an quick and easy, but a tasty alternative to baked potatoes. The seasonings in this basic recipe can be adapted to your own taste by simply adding any additional seasonings of your choice. You can make them like this or add something like cayenne pepper to make them spicy. You decide!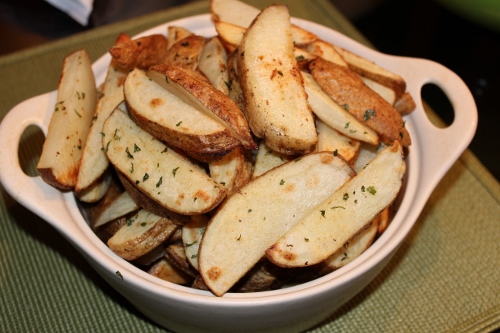 Image: Courtesy of Jodee Weiland
When preparing a meal for several guests, it's always nice to have an easy but tasty potato side dish to serve. Delicious Oven Baked Seasoned Steak Fries are both tasty and easy to prepare as well as healthy. Usually I scrub the skins of the potatoes earlier, and then set them aside to dry whole. We all know that baking potatoes whole is easy, but it takes longer to bake them, and you can't season them or anything, so they are just a baked potato. That's fine, but if you want something a little different and delicious, this is definitely the dish for you!
Read more at Learn from yesterday, live for today...
ADD A COMMENT
Recent Posts
by Jodee Weiland
Most Popular
Our bloggers chose Lucky Brand for its fit, comfort and unique details and finishes. Read more on the latest styles plus get a chance to win $100.
Read more
Latest comments
Embassy Suites by Hilton is a brand within the Hilton Worldwide portfolio that promises to provide what really matters most to the savvy guest. Our bloggers took a family getaway to experience Embassy Suites by Hilton. See everything they had to say and comment for your chance to win $100!
Read more