Delicious Oven Baked Seasoned Steak Fries
Delicious Oven Baked Seasoned Steak Fries are an quick and easy, but a tasty alternative to baked potatoes. The seasonings in this basic recipe can be adapted to your own taste by simply adding any additional seasonings of your choice. You can make them like this or add something like cayenne pepper to make them spicy. You decide!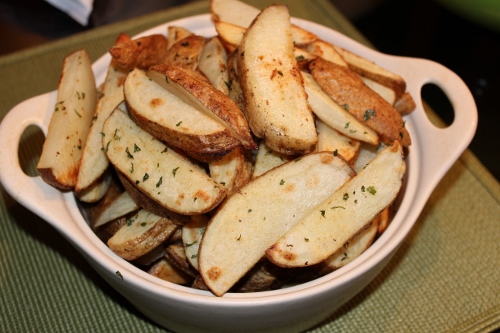 Image: Courtesy of Jodee Weiland
When preparing a meal for several guests, it's always nice to have an easy but tasty potato side dish to serve. Delicious Oven Baked Seasoned Steak Fries are both tasty and easy to prepare as well as healthy. Usually I scrub the skins of the potatoes earlier, and then set them aside to dry whole. We all know that baking potatoes whole is easy, but it takes longer to bake them, and you can't season them or anything, so they are just a baked potato. That's fine, but if you want something a little different and delicious, this is definitely the dish for you!
Read more at Learn from yesterday, live for today...
Related Posts
More Like This
Recent Posts
by Jodee Weiland
Del Monte Fruit Burst Squeezers are healthy snacks you can offer your children after a long day at school. 17 moms offer their best back to school snacking and lunch tips. Find some great ideas and get a chance to win a $100 VISA Gift Card on each blog.
Read more
Dixie Ultra Moments® Reviews
Celebrate Life's Special Moments with Dixie Ultra Moments®. They're strong enough to hold up to any gathering or party. Go ahead. Celebrate with style and strength!