Digging Deep to the Heart of the Family Tree!
October is National Italian American Heritage Month...and as an Italian American, it's only natural that this finds me digging up some roots...family roots.
Some Roots Run Deep!
"We all grow up with the weight of history on us. Our ancestors dwell in the attics of our brains as they do in the spiraling chains of knowledge hidden in every cell of our bodies."
~Shirley Abbott
A few months ago I published a great article by my fellow blogger, Rick Zullo, who writes from the viewpoint of an ex-pat with an Italian genealogy who now lives in Rome. I love his stuff because it's done with an appreciation for and love of all things Italian but also with a great insight and a sense of humor (no rose colored glasses).
When it was my turn to offer an article to be published on his blog, at first I wasn't sure what to write about...but then my thoughts turned to what it is like to be Italian-American who grew up in the U.S. and how my relationship to my Italian roots evolved. It became very personal for me and coincided with my own digging to apply for dual citizenship (since I qualify through my paternal grandfather) and how that research has been another piece in my story...a story I never even thought about much growing up or, to be honest, for most of my adult life.
Unlike some who have traced their family tree back many generations, it wasn't something we discussed much (translate = almost never). Now I have no one to ask, to fill in the blanks, to connect the dots. As I look at all that I do have –a few black and white photos, copies of certificates, a few names and dates – I now feel a need to find the threads, to know more... because it is a huge part of my story -who I am and why I am here today.
Among the millions of immigrants who came to America from Italy at the end of the 19th century, my grandparents were among them. My paternal grandparents were among those who came them through Ellis Island. (I'm still searching for details about my Mother's side.)
"Like branches on a tree we grow in different directions, yet our roots remain as one. Each of our lives will always be a special part of the other."
—Anonymous
Only recently I saw a record of the ship's manifest that my grandfather sailed on from Naples to New York in 1900. He was only 23 years old, he had $20. It gave me goose bumps. Then we found the 1924 census; now living in the Bronx, married with a family, among them my father who was only 5 years old at the time. There is an address and records showing that older brothers and sisters were already working to help out. It made everything so "real" – I was deeply moved.
Overall, however, the search has raised more questions than answers. I'm told so often how I resemble my Mother and Father in so many ways...of course...but then, they resembled theirs and so on, the generations before. So, what features do I share with them? The color of my hair or the sound of my voice? My mannerisms? My laugh? And how did they meet? What were they like? Whose legacy am I a part of and how? Surely there are DNA threads...those ties that bind us...but then there is all that is lost.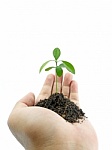 "Never destroy any aspect of personality, for what you think is the wild branch may be the heart of the tree."
—Mrs. Henry George
I have a few more pieces of the puzzle to locate, then the bureaucratic dance to get that dual citizenship will begin in earnest. And, why bother? Why do I want it? I'm not really sure... OK, I can stay in Italy longer, I can work there if I want to...but I think it is something far more intangible... something from the heart, I think it may be to bring it all back full circle in some way...I'll let you know when it's said and done...
And really, regardless of where our family is from or where the trail leads, ultimately isn't it about feeling that, in your heart, you've arrived home?
I'm thrilled and proud to share my story. As it turns out, October is also National Italian-American Heritage Month and my piece,
will kick that off on Rick's blog today.
* * *

Send Me a Postcard! Just click on the stamp or comment below!
Have you ever dug into your family tree roots?
Send Me a Postcard!
Victoria
PostcardsfromTravelPiZazz@gmail.com
ADD A COMMENT
Recent Posts
by ladolcevitaforme
Most Popular
We asked our bloggers to craft some recipes from the different Success® Rice flavors and tell us about it. Check out their ideas and you could win a $100 Visa gift card!
Read more
Lean Pockets have no artificial flavors, a good source of protein & have 100% real cheese. Read our bloggers posts where they will tell you their guilt free experiences with Lean Pockets. Plus get a chance to win $100!
Read more