Dirty Girl Christmas: Holiday Gifts for the Gardener
Are you shopping for a dirty girl this holiday season? Do you have a veggie enthusiast, rose maven or flower fanatic on your shopping list? Gardeners are wonderful people, but unless you happen to be one, they can be a hard group to shop for. Luckily, Santa just happens to have a few green-thumbed elves on staff, and they were more than happy to help me put together this list of great gifts for the new or seasoned gardeners in your life.
Nothing will ruin a good gardening day faster than a swarm of blood-thirsty blackflies or mosquitoes buzzing your ears and biting your neck. Sprays and lotions can offer coverage for a limited time, but they often sting the eyes and quickly wear off. My first choice for full protection is the Bug Baffler Shirt. Slip one of these under the tree and your gardening friend will thank you over and over throughout the growing season.
In my years of garden maintenance, I've tried just about every kind of gardening glove manufactured. In my experience, water-resistant gloves are absolutely essential for staying dry and comfortable on cold, raw, spring days. My all-time favorite hand protection are long-wearing, durable Mud Gloves.
There may be more glamorous gardening boots available, but none will keep your feet warmer, drier and better protected than Muck Brand Chore Boots. I've been wearing the same pair of Muck Boots for more than ten years and they have served me well in the muddiest, wettest conditions mother nature could whip up!
Every gardener needs a well-made, wide-brimmed hat for good sun protection. My favorite is Scala's Big Brim Raffia number pictured here. Don't let its lightweight feel and beauty fool you, this is one rugged article of clothing, with a handy, adjustable leather chin cord.
From blueberry bushes and fruit trees to roses and wisteria vines, a great pair of garden pruners are essential for woody plant maintenance. Gardeners with small hands will appreciate the size and shape of classic Felco 6 bypass pruners. True, they are a bit of an investment, but when properly cared for, a great pair of pruners will last a lifetime.
Sure, a gardener could use an ordinary plastic rake to clean up spring borders, but in tight perennial beds, it's easy to damage newly emerging foliage and spring bulbs. I prefer to use an Adjustable Steel Rake to get beneath low-branching shrubs and between closely planted perennials. Easy to use and inexpensive, this is the most versatile and frequently-used tool in my garden shed.
Even with gloves, a gardener's hands can quickly become rough and dry if not properly cared for. Crabtree & Evelyn's Gardener's Hand Therapy has long been my favorite way to keep hands soft and well moisturized.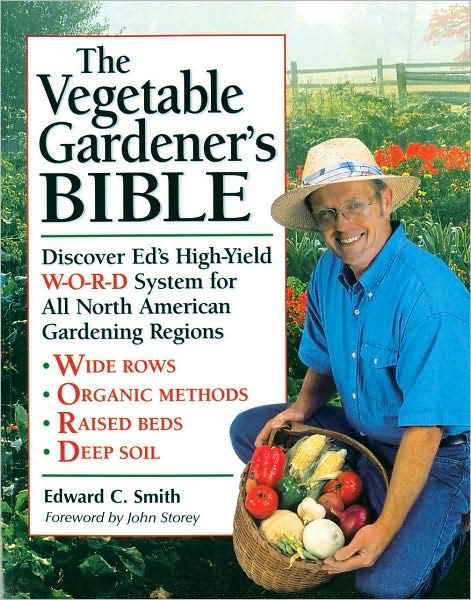 I've been reading and reviewing gardening books for many years, and I've yet to find a more comprehensive and easy to understand title for the new or experienced kitchen gardener than Ed Smith's The Vegetable Gardener's Bible. This is a great book for the beginning gardener, and it will even teach a seasoned pro a few new tricks!
Have a flower gardener on your holiday list? Expert plant-by-plant care and maintenance tips, trouble-shooting advice, and beautifully detailed macro-photos, make Nancy Ondra's Perennial Care Manual, a stand-out on my gardening book shelf.
Of course, one of the nicest things you can give a gardener in winter is the dream of springtime. A gift certificate and catalog, like this one from White Flower Farm, almost guarantees sweet dreams and visions of sugarplums during the gardener's long winter's nap.
Come to think of it, why not keep the garden theme going all the way to the tree? When wrapping gardening gifts, consider tying them up with bits of natural garden twine and accessorizing with flower or vegetable seed packets. Have fun and enjoy your holiday shopping!
ADD A COMMENT
Recent Posts
by Michaela Medina
Most Popular
We asked our bloggers to craft some recipes from the different Success® Rice flavors and tell us about it. Check out their ideas and you could win a $100 Visa gift card!
Read more
Lean Pockets have no artificial flavors, a good source of protein & have 100% real cheese. Read our bloggers posts where they will tell you their guilt free experiences with Lean Pockets. Plus get a chance to win $100!
Read more