Divine Honeymoon in God's Own Country
Yes, we know the relevance of Honeymoon trips for they are no less than a dream that subsumes you in an out-of-the-worldly romantic realm. Imagine spending those beautiful moments with your spouse amidst lush green environs right in the lap of Mother Nature, an elephant ride, those floating villas decorated with flowers and dining at a cruise through the backwaters of India.
For those looking for an ever-cherished honeymoon, the 'God's Own County' or Kerala really has to be the only answer. It is one stop destination for the newly-weds wanting an intimate and luxurious start to their marital life. And from adventure to solitude, excitement to solace – it has just got it all.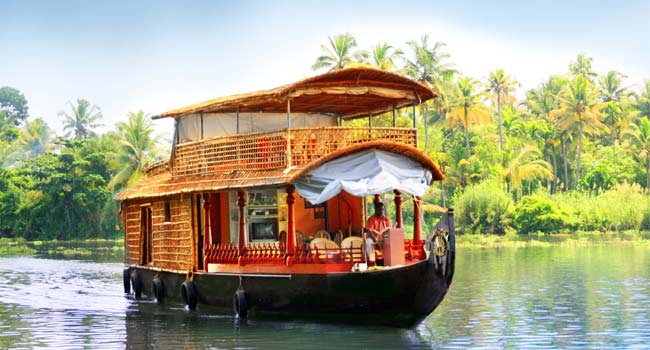 Blessed with an equable climate, waterfalls, beaches, delectable cuisine, and the truly heavenly 'backwaters,' Kerala was really the first and the last honeymoon choice for me and my soulmate. And when we eventually got to travel around places like Munnar, Thekaddy and Alleppey, we could not help being absolutely mesmerized by their scenic beauty.
Our main abode for the trip, Lake Haven Resort, located along banks of the Vembanadu Lake was a really comfortable stay. The "floating" restaurant "Pamaram" at the resort was definitely an interesting concept, and is a must-watch for anybody opting to stay there.
Among the most memorable experiences we had in Kerala were a stay at the houseboat that gave us a soulful glimpse of the pristine backwaters and adoring the exotic fauna in Munnar in a weather that warmed the cockles of our hearts. However, if I had to pick the single best highlight of our honeymoon, it was undoubtedly the sheer adventure at Periyar Wildlife Sanctuary, where we also stayed at a real Tree House in surreal solitude – a proverbial cherry on the cake in context of a super romantic honeymoon.
As for my hubby who is a real foodie, the lip-smacking South Indian cuisine and in particular, the Malabar Biryani was a super discovery. I, being the more conventional out of the two of us when it comes to food, was still spoilt for choice between authentic idli sambhar, dosas, and fish curry. All in all, Kerala made us feel very special, and in many ways, made us feel the happiness that lay at the core of our compatibility.
ADD A COMMENT
Recent Posts
by sucharita Roy
Most Popular
Simply Beverages™ use never-from-concentrate juices in all of their beverages. And they never add any preservatives, colors or artificial flavors. Read our bloggers' posts and find fun beverage recipes you can serve this summer! Plus get a chance to win $100.
Read more
Excedrin® Migraine relieves sensitivity to light, sensitivity to sound, nausea and relieves pain in just 30 minutes. Read our bloggers' posts as they talk about their experiences with migraine and how they cope with it. Plus get a chance to win $100!
Read more