Do Moms Make Bad Food Taste Good to Babies?
BlogHer Original Post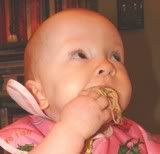 Barbara Fisher, mother to preteen Morganna and pretoddler Kat and the author of the ever-provocative food blog Tigers & Strawberries, is thinking about the British study that suggests mothers may be making 'bad food taste good' to their babies by eating junk food during pregnancy and while nursing.
"... infant food preferences are in some part shaped by their mother's diets during pregnancy and lactation. This does make sense –- because as mothers and doctors have known for generations, flavors from her diet come through the breast milk, so it is only logical that a child will have a preference for tastes which they have experienced before." ~ Tigers & Strawberries
But, she continues, ... read the rest of the post and join the conversation, too.
BlogHer food editor Alanna Kellogg shares recipes for 'every-day healthful eating and occasional indulgences' in her food column Kitchen Parade.
Trending Now
Recent Posts
by Alanna Kellogg
BlogHer and Chinet® asked our bloggers to plan a fun event with friends and family, usingChinet® Cut Crystal® products for inspiration. Check out their blog posts for their best elevated entertainment tips and ideas.
Read more