Do Moms Make Bad Food Taste Good to Babies?
BlogHer Original Post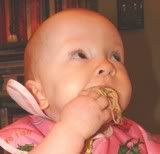 Barbara Fisher, mother to preteen Morganna and pretoddler Kat and the author of the ever-provocative food blog Tigers & Strawberries, is thinking about the British study that suggests mothers may be making 'bad food taste good' to their babies by eating junk food during pregnancy and while nursing.
"... infant food preferences are in some part shaped by their mother's diets during pregnancy and lactation. This does make sense –- because as mothers and doctors have known for generations, flavors from her diet come through the breast milk, so it is only logical that a child will have a preference for tastes which they have experienced before." ~ Tigers & Strawberries
But, she continues, ... read the rest of the post and join the conversation, too.
BlogHer food editor Alanna Kellogg shares recipes for 'every-day healthful eating and occasional indulgences' in her food column Kitchen Parade.
Related Posts
Recent Posts
by Alanna Kellogg
Bridgestone asked 8 bloggers to share personal stories of their own busy, multi-tasking lifestyles and what in their life they most rely on to "keep it all together." Check out their posts and learn how you could win a set of Bridgestone tires to keep you moving.
Read more
Dixie Ultra Moments® Reviews
Celebrate Life's Special Moments with Dixie Ultra Moments®. They're strong enough to hold up to any gathering or party. Go ahead. Celebrate with style and strength!