Do You Remember Prom?
Today's Post on Real Talk 123.com
Prom was so epic. I went to 2 proms: junior prom and senior prom. Looking back it was so major, but in the grand scheme of life it was so insignificant. So why is it that so many people place such a high price on an event that lasts 4 hours? If you didn't notice the photo, that is me; prom 2006. I had a blast. I really did! I enjoy dancing so I think RJ and I just danced the entire time. RJ was my date both proms. He was not my boyfriend, he was my friend. He wasn't even supposed to be my date for senior prom… but that is a whole different story. Every dress I wore was from Dillard's. Every September, Dillard's has a crazy sale on all of their gowns. I went to a lot of formal events so my mother and I would get about 4 dresses each year. The dresses were all under $40 and the particular dress in this photo was $20. I did my own makeup, but of course I go my hair done. I have to say that I was not happy with my hair in this photo, but whatever.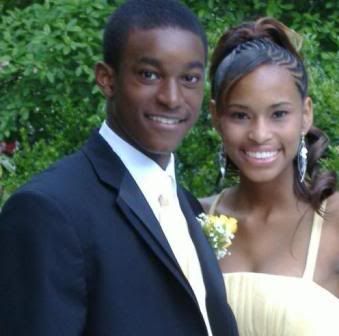 So I guess it is confession time. I invited RJ to be my date for prom because I couldn't get a date from my own school. I went to a predominantly white high school. Am I blaming the fact that I didn't get a date on my race? Partially. I look exactly the same as I did in high school. My sense of style has changed but I look exactly the same. I no love from dudes in high school. The instant I left high school and entered college, it was a miracle. Guys liked me. Guys thought I was attractive. I have to be honest I'm still a little shocked when a hot guy is interested in me. For so long I felt ugly. I had friends in High school so it wasn't like I was a complete outcast. But try telling me that 6 years ago. I was very active in school and everyone knew who I was (small school). I had friends outside of school (acting group) and I got my self-confidence there. I remember crying in high school. I thought that I was never going to have a boyfriend. Er… a "real" boyfriend.
High school was tough. I think high school was tough for everyone, even the "popular" kids. High school is weird like that. It doesn't matter how much you have, it will never been enough. I 've have made a conscious decision to never go back to that state of mind. I was forever downing myself. I remember crying about being alone. I remember hating the way I looked. If only my forehead was smaller. If only my hair was longer. I hated my high school… I hated almost everything about it (socially). I liked a few of my teachers and I was more than prepared for college. In many ways I feel as if my high school was way more challenging than Hampton University….
Anewayzzz… Looking back I have the exact same facial features, and for the most part the same personality. I've learned more but my nature hasn't changed much. So what was so wrong with me? Nothing was wrong with me… Something was just terribly wrong with all of them lol. Just kidding! Entering a college like Hampton University where I was one of many, was refreshing. I remember calling one of my friends from high school and saying, "OMG everyone is so beautiful. The guys are hot, and the girls are beautiful. Oh! and everyone can DRESS." I needed to attend Hampton. As much as I may complain about my, "Home By The Sea" I've learned an awful lot,. I 've learned more about myself, and the world around me. That is sort of what college is about. It is about growing personally, maybe even more than growing intellectually…??
I love how this post started out talking about prom… I'm nowhere near talking about prom…
See how insignificant it is…
visit www.RealTalk123.com for more great blog posts
Recent Posts
by AlesiaMichelle
Most Popular
We asked our bloggers to craft some recipes from the different Success® Rice flavors and tell us about it. Check out their ideas and you could win a $100 Visa gift card!
Read more
Lean Pockets have no artificial flavors, a good source of protein & have 100% real cheese. Read our bloggers posts where they will tell you their guilt free experiences with Lean Pockets. Plus get a chance to win $100!
Read more