Don't Believe Everything You See
Life is changing around us, that much we know. But, do we really know just how much it is changing or has changed? One must be very aware to research the threads that bring true information to light. Even more so as we can no longer count on a picture being a thousand words. Sometimes they are worth many more, as they create an illusion around us.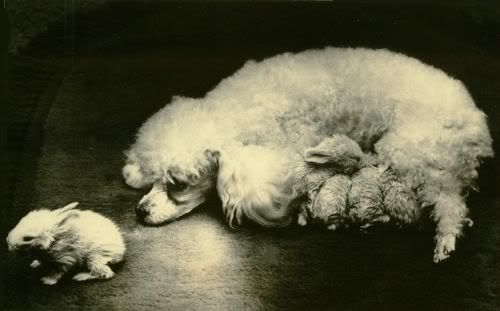 A mother poodle nurtures her puppies. Or wait, does she?
When I was a kid growing up, I had a friend that used to say a common adage, "You can believe nothing you hear, half of what you read and everything you see." If that were ever true, well, fifty years later that has changed. Now things are much simpler: "You can't believe anything you hear, read OR see." Modern technology is progressing so quickly it is important to realize that "photographic evidence" can no longer be trusted as such.
Watch this fascinating video about the green screening and computer graphics of the movie John Adams by clicking play to fully appreciate the enhancement capabilities of audio/visual information:
Technology is a wonderful thing, but now every bit
of new information must be critically reviewed.

For information on the green screen technique, preview
this guide by clicking this link:
Greenscreen Made Easy: Keying and Compositing Techniques
for Indie Filmmakers
SunbonnetSmart.com is authored by a little bird who loves to lure unsuspecting BlogHer bloggers to her web site.
Related Posts
More Like This
Recent Posts
by SunbonnetSmart.com
Our bloggers include LISTERINE Antiseptic in their regular oral health routine. See why and get a chance to win $100.
Read more
Most Popular
on Media and Journalism
Recent Comments
on Media and Journalism