Don't change a thing, baby girl.
I am participating in NaBloPoMo for November and trying to post once a day. Blogher provides some prompts for participants to help get the creative juices flowing. Today's prompt is a bit of a disappointment for me.
"If you could change one thing about yourself, what would it be?"

As a new mom to a little girl, I really don't like this question. I mean, isn't part of being special also being different? And accepting and loving yourself? Man, at 32 years old I feel like I can honestly answer that question: nothing. But to still be asking it - is a problem.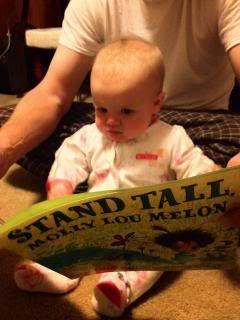 Anyways, enough about that. The thing I really wanted to share is a great book that highlights just how good it is to be you. If you've got a daughter - I highly recommend this book: Stand Tall, Molly Lou Melon.

It tells a great story of how a little girl takes her grandmother's advice and turns her "faults" into talents. I already read it to Lucille, even if all she wants to do is eat the book. The author has another book with the same character: Have Fun, Molly Lou Melon and its just as good.

I know there are other great kids books out there that emphasize "being yourself." Any other recommendations from readers?
Posted originally at: High Heels and Honeybees
Related Posts
More Like This
Recent Posts
by emartini68
There's no better vehicle to bring the family together than the Chevy Traverse. It's the ultimate family vehicle, and the inspiration behind the tales that these bloggers are sharing about those special moments spent with their families. Check out the posts to see just how different, and, in many ways, the same, family time is nowadays as compared to when the bloggers were younger.
Read more
Coffee-Mate® Girl Scout® Cookie Creamers
Bloggers share life hacks they learned during their Girl Scout days. We also found out that with the new Coffee-Mate® Girl Scout® Cookie creamers, we can now enjoy the delightful cookie taste all year round. Read their posts for a chance to win $100!
Recent Comments
on Family