Double your bra wardrobe with a simple gadget
BlogHer Original Post
This is a compensated review by BlogHer, the Strapper and Bralief.

I have a very small chest; on a good day, I wear a 32 Nearly A bra. At my largest, when I was nursing, I wore a full A cup.
I'm sure you're all happy to know that. But it's relevant, I swear.
I wear a lot of sleeveless pieces -- tank tops and shells and cap sleeve dresses. And I refuse to go around with my bra straps hanging out. But because I'm so flat chested, I have a hard time finding bras that are anything but the ususal shape; strapless and racer back bras don't ever come in my size.
My life is hard.
Fortunately, if you're looking for ways to keep your straps under control, there are some great options. My favorites are the Strapper and the Bra Clip by Bralief.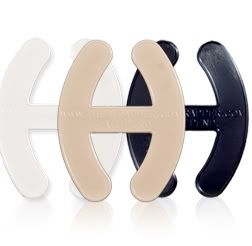 The Strapper is a flat plastic H; hook your bra straps through it, position it between your shoulder blades, and you're good to go. The Strapper will lay flat -- and hold your bra straps flat -- underneath the slimmest dress or tank.
The Strapper is easy to wear and easy to adjust; it works best when you need to convert a regular bra into a racer back, which is useful for tank tops and other sleeveless pieces.
Unfortunately, you can't change the size of the Strapper, and by the end of the day, it can get kind of uncomfortable. And because it's plastic, there's always the risk that it will break, which makes me wonder how effective it would be for girls with larger chests.
The alternative to the Strapper is the Bralief Bra Clip (seriously, who names these things?). The Bralief is essentially a bra strap with a clasp on it; hook it around your actual bra straps to pull them together in the back, and voila! you're good to go.
The Bra Clip can be adjusted, which makes it incredibly versatile; you can convert a conventional bra into a racer back or a halter, depending on your needs.
The Bra Clip is great for women with large breasts, particularly girls who have problems keeping their straps in place. It's sturdier and more comfortable than the Strapper, but it is difficult to get the Bralief to lay flat. Under anything very clingy, the Bralief will create one more bump.
The Strapper retails for $5.99 ($14.99 for a three pack); the Bralief is $9.95 each or $22.95 for three. The Strapper comes in a special Sarovski crystal edition for $74.99, and the Bralief Bra Clip comes in a pink and white breast cancer awareness version, with 20% of the proceeds going to breast cancer research.
SheFinds also loves the Bra Clip; check out the Plastic Surgery at Home list (including Bralief's Bra Clip). Lorraine at Bra Perfection isn't loving the strapper, which is fair -- I think it works for me because I'm so small chested, but I can see how it wouldn't work for girls with bigger breasts.
Looking for a good source for reliable lingerie advice? Check out Tomima Edmark's blog at HerRoom.com. And come back tomorrow when Tomima talks with us about how to find the right bra for your shape!
Comments
Related Posts
More Like This
Recent Posts
by Susan Wagner
Lean Cuisine believes that women should be valued for their accomplishments as opposed to their weight/appearance. Lean Cuisine's new brand campaign Feed Your PhenomenalTM reflects its new brand purpose: to feed the greatness in every woman. Check out our bloggers' posts and see how they measure their true worth plus learn how you could win a $100.
Read more
Get peace of mind with the kids zone feature on the X1 Entertainment Operating System. Now your children can easily and safely navigate age-appropriate shows without supervision. Read our bloggers' reviews and see why they feel safer with kids zone brought to you by XFINITY.
Read more
Recent Comments
on BlogHer