Dreaming of the Mediterranean
BlogHer Original Post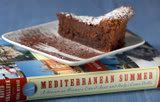 Anita from the San Francisco food blog Dessert First has spent the summer as a ship's cook aboard a yacht on the Mediterranean. Well, sort of ...
"Summer is slowly drawing to a violet-and-rose sunset of a close, but is it too late to dream of one more vacation? I didn't get to travel to Europe this summer, but I did the next best thing ... " ~ To board the yacht and get the recipe for Chocolate Capri Cake, Dreaming of the Mediterranean
Dreaming of small-town soda fountains from another era, BlogHer food editor Alanna Kellogg bakes some Vanilla Brownies then returns to vegetable recipes in her food blog A Veggie Venture.
Comments
Recent Posts
by Alanna Kellogg
Help protect your family from the transmission of harmful bacteria and viruses! Use Lysol's Full Bathroom Range to remove soap scum, lime scale, and everyday dirt and grime to leave your bathroom smelling clean and fresh.
Read more
FoodSaver® Reviews & Giveaways
Save time, money and space with the FoodSaver® Vacuum Sealing System! Air is the enemy of freshness and FoodSaver® vacuum sealers remove and lock out air and moisture. It keeps food fresh up to 5x longer! Read our bloggers' posts and know more about FoodSaver® plus get a chance to win $100!