Dreaming of the Mediterranean
BlogHer Original Post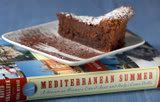 Anita from the San Francisco food blog Dessert First has spent the summer as a ship's cook aboard a yacht on the Mediterranean. Well, sort of ...
"Summer is slowly drawing to a violet-and-rose sunset of a close, but is it too late to dream of one more vacation? I didn't get to travel to Europe this summer, but I did the next best thing ... " ~ To board the yacht and get the recipe for Chocolate Capri Cake, Dreaming of the Mediterranean
Dreaming of small-town soda fountains from another era, BlogHer food editor Alanna Kellogg bakes some Vanilla Brownies then returns to vegetable recipes in her food blog A Veggie Venture.
Trending Now
Recent Posts
by Alanna Kellogg
Our bloggers tried out Panasonic's HomeTeam App. An online service that connects loved ones across generations and distance. Read more and see how they shared activities and built lasting memories. PLUS get a chance to win a $100.
Read more