Dreaming of the Mediterranean
BlogHer Original Post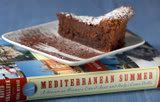 Anita from the San Francisco food blog Dessert First has spent the summer as a ship's cook aboard a yacht on the Mediterranean. Well, sort of ...
"Summer is slowly drawing to a violet-and-rose sunset of a close, but is it too late to dream of one more vacation? I didn't get to travel to Europe this summer, but I did the next best thing ... " ~ To board the yacht and get the recipe for Chocolate Capri Cake, Dreaming of the Mediterranean
Dreaming of small-town soda fountains from another era, BlogHer food editor Alanna Kellogg bakes some Vanilla Brownies then returns to vegetable recipes in her food blog A Veggie Venture.
Trending Now
Recent Posts
by Alanna Kellogg
Mom has a lot to check off her list this Summer, and Kellogg's cereal can help her get it done. How will you make the most of your Summer? Check out our blog posts as we share with you inspirational ideas for celebrating the moments of magic that will happen during this activity-filled time of year! PLUS enter for a chance to win as $100 Walmart gift card!
Read more
Green & Black's Organic Chocolate Reviews & Sweepstakes
We placed Green & Black's Organic Chocolate to the test! Check out these delicious chocolate recipes and recreate them using exceptional, fairtrade ingredients. Plus get a chance to win $100 cash equivalent and a chocolate prize pack.