Dreaming of the Mediterranean
BlogHer Original Post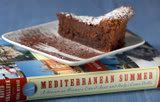 Anita from the San Francisco food blog Dessert First has spent the summer as a ship's cook aboard a yacht on the Mediterranean. Well, sort of ...
"Summer is slowly drawing to a violet-and-rose sunset of a close, but is it too late to dream of one more vacation? I didn't get to travel to Europe this summer, but I did the next best thing ... " ~ To board the yacht and get the recipe for Chocolate Capri Cake, Dreaming of the Mediterranean
Dreaming of small-town soda fountains from another era, BlogHer food editor Alanna Kellogg bakes some Vanilla Brownies then returns to vegetable recipes in her food blog A Veggie Venture.
Related Posts
Recent Posts
by Alanna Kellogg
Nate Berkus brings his celebrated style to LG's premium line of kitchen appliances. See how our bloggers incorporated this style with with just a few simple tweaks. Enter "My Kitchen Needs Nate" contest for a chance to win an ultimate dream kitchen.
Read more
Dixie Ultra Moments® Reviews
Celebrate Life's Special Moments with Dixie Ultra Moments®. They're strong enough to hold up to any gathering or party. Go ahead. Celebrate with style and strength!