Easy Blueberry Bundt Cake Recipe
This blueberry bundt cake is very easy to make! It's a one-step cake - you just mix the ingredients, pour into the bundt pan and bake. The result is loaded with blueberries and is simply delicious!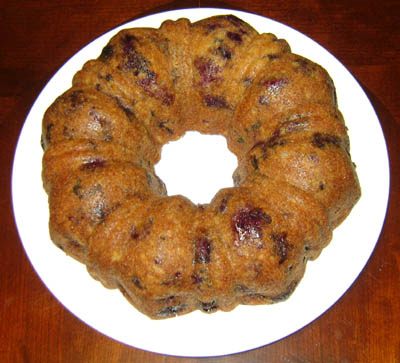 Ingredients:
2 eggs
1 cup sugar
1/2 cup canola oil
1 tbsp vanilla
1 cup lowfat plain yogurt
2 cups flour
2 tsp baking powder
1 tsp baking soda
2 cups blueberries (fresh or frozen)
Directions:
Preheat oven to 375F.
Grease the inside of the non-stick bundt pan (or spray with the cooking spray).
Whisk the eggs in a large bowl, then whisk in the sugar. Whisk in the oil, yogurt and vanilla.
In a separate bowl, mix the flour with the baking powder and baking soda. Add the flour mixture to the egg mixture. Add the blueberries and stir until combined.
Pour the batter into the bundt pan. Bake for 40 minutes.
ADD A COMMENT
Recent Posts
by Melanie Mendelson
Most Popular
Chateau Ste. Michelle ALWAYS delivers remarkable wine experiences. We asked our bloggers to try Chateau Ste. Michelle wine and share the story behind their perfect sip. Read their reviews plus get a chance to win $100!
Read more
Latest comments
The enamel of baby teeth and new adult teeth is vulnerable to damage. Help protect your child's teeth for years to come by using ProNamel 6-12 Years Toothpaste. Read our bloggers' posts and see you should start your kids with using ProNamel 6-12 Years Toothpaste plus get a chance to win $100!
Read more