Easy Coq au Vin in 20 Minutes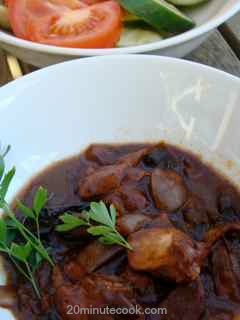 My family loved this sensational yet incredibly easy coq au vin that I made in all of 20 minutes. It took a mere 5 minutes of hands- time and 15 minutes for the flavors to blend yummily.
Yes, it's all done from scratch as I like to know exactly what it is we're consuming.
Here's the recipe for this super easy coq au vin:
8 mushrooms, sliced thickly,
1 onion, diced
half a pound of chicken pieces - best to use thigh pieces
4 bacon rashers, diced - use a pair of kitchen scissors to cut it up roughly. There's no need to be precious about it.
2 tablespoons red wine vinegar
1 stock cube - I prefer either chicken or vegetable flavor
1 heaped tablespoon flour
2 heaped tablespoons tomato paste
2 cups red wine.
2 bay leaves
1 teaspoon sugar
salt and pepper
Heat a little oil to cook the mushrooms. As soon as it has softened, add the meat to brown. Keep the heat on high and it'll be browned it a few minutes. There's no need to cook the meat - it just needs to be seared.
Toss in all the reamining ingredients and give it a good stir.
Place the lid back on the pot, reduce the heat to moderate simmer for 15 minutes.
That's it! By the time the table is set and the fruit cut up for dessert, this delicious easy coq au vin will be ready.
Enjoy!
Warmest,
Killara
We asked our bloggers to craft some recipes from the different Success® Rice flavors and tell us about it. Check out their ideas and you could win a $100 Visa gift card!
Read more
Lean Pockets have no artificial flavors, a good source of protein & have 100% real cheese. Read our bloggers posts where they will tell you their guilt free experiences with Lean Pockets. Plus get a chance to win $100!
Read more