Easy, Crazy Good Prosciutto Crostini
By Anonymous on May 27, 2008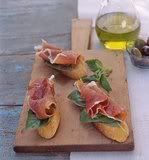 These tasty little appetizers are like bruschetta, but much faster and easier to make. The unusual combination of slightly smoky creamy cheese, salty prosciutto, and brightly herbal basil is amazing and guaranteed to wow with almost no effort.
Crazy Good Prosciutto Crostini

Ingredients:
1 baguette loaf
2 ounces olive oil
4 ounces Edam cheese, sliced thin
Big bunch of fresh basil, julienned or just use a leaf each
6 slices Italian prosciutto, cut into fat ribbons
Salt and pepper to taste
Directions:
Turn on your oven's broiler.
Slice baguette into ½ inch slices (cut on the diagonal; it's just prettier), brush both sides of the slices with olive oil and place on a baking sheet (to save even more time, spray the bread slices instead with a spritz of olive oil spray – a new staple in my kitchen). Put the filled baking sheet under the broiler and toast both sides (watch them the whole time; they are done in a matter of seconds). You can make them ahead of time if you like, cooling them and storing in a ziplock bag until you are ready to use them.
Turn the oven down to 350 degrees. Layer Edam cheese slices atop toasted bread slices and bake until the cheese just melts.
Add slivers (or leaves) of basil and a twisted ribbon of prosciutto to each piece of cheesy bread. Bake for a couple of minutes just to warm through.
Place appetizers on a serving plate and add salt and pepper to taste. Serve warm and get ready for the compliments. These are decadently good.
More Like This
Recent Posts
by Anonymous
Our bloggers use Tyson® Fresh Chicken for their chicken recipes. Re-create these recipes for a wonderful mealtime at home with your family. Also, enter for a chance to win a gift basket of kitchen goods and gadgets.
Read more
Tyson Fresh Chicken Reviews
With a little help from Tyson Fresh Chicken, bloggers share their favorite chicken recipes for mealtime with the family. Read their posts and enter for a chance to win a kitchen goods gift basket!