An Easy Valance Re-Vamp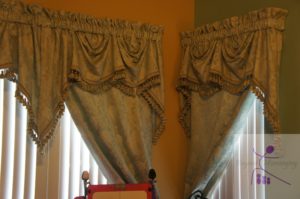 When we moved into our house, the only draperies the previous owner left behind were in the master bedroom. I've always liked the fabric but the valance style was so not us! I've had the plan to make them over for nearly 2 years, but it wasn't until last week when I started my "8 Weeks to a Happier Home" project that I finally got the motivation to get them done!
I had five panels that needed to be redone (one over each window and three over the sliding glass doors). I thought it would take forever, but it didn't take me nearly as long as I expected. This is what I started with: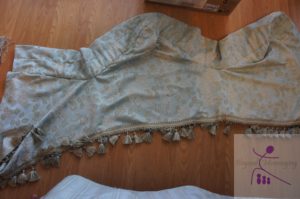 I started by cutting off the tassels. I figured even if that was as far as I got, it would be a great improvement! (does anyone out there need a million tassels?)
Then I removed the rod pocket panel to see what I was really working with.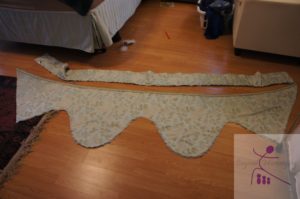 I cut off the rounded tops (which created the swag) and sewed the rod pocket panel back on.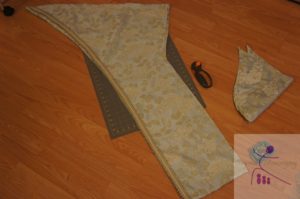 For the center panel to go over the doors, I also removed the points (and the center point on each side panel) to create one long line across. I decided to sew the three panels together to make one long piece rather than finishing the edges to have three separate panels as we did before.
I then took out the seam on the rod pocket panel to get rid off the ruffle on the top.
So long foo-foo! The new look is much more simple which suits our style much better.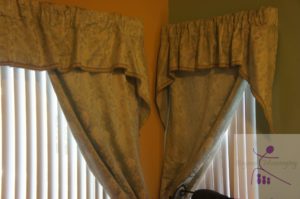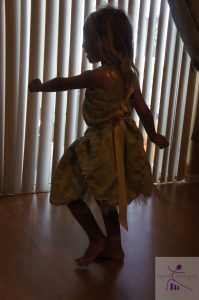 And with the cut off pieces I was able to make the girls a "Fairy Princess" dress-up dress! And have enough leftovers for another...Think your little princess would love her own fairy princess dress? Here's your chance to "Pin it to Win it!" Simply follow Beyond Mommying on Pinterest, re-pin this pin and leave a comment on it. Next Tuesday (May 27, 2014) I will pick a winner to get their own custom-made Fairy Princess Curtain dress! See full terms and rules here.
Recent Posts
by BeyondMommying
We asked our bloggers to craft some recipes from the different Success® Rice flavors and tell us about it. Check out their ideas and you could win a $100 Visa gift card!
Read more
Lean Pockets have no artificial flavors, a good source of protein & have 100% real cheese. Read our bloggers posts where they will tell you their guilt free experiences with Lean Pockets. Plus get a chance to win $100!
Read more