El Charro's Chilaquiles from Apron Strings
Donna and Anne from Apron Strings describe their recipe for Chilaquiles as an easy Mexican casserole that's perfect for Meatless Monday. However, if it's swelteringly hot where you live, don't be too worried about that word casserole, because this spicy combination of tortilla chips, eggs, green chiles, cheese, corn, and enchilada sauce only needs a quick 20 minutes in the oven to melt the ingredients together. Not only is this a delicious and flexible meatless recipe, but it's also a great way to use tortilla chips that are a little past their prime!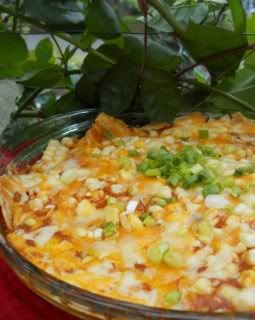 Photo of El Charro's Chilaquiles
from Apron Strings
Get the recipe for El Charro's Chilaquiles from Apron Strings.
Have you made something interesting for Meatless Monday this week? If so please share the recipe link or your recipe in the comments. You can find more Meatless Monday recipes by clicking the tag Meatless Mondays.
BlogHer Contributing Editor Kalyn Denny also blogs at Kalyn's Kitchen, where she specializes in low-glycemic recipes using fresh ingredients. Kalyn probably won't ever be a vegetarian, but she does love to make meatless dishes such as Penne Pasta with Wilted Arugula, Basil, Ricotta, and Parmesan Sauce.
COMMENTS
Recent Posts
by Kalyn Denny
We asked our bloggers to craft some recipes from the different Success® Rice flavors and tell us about it. Check out their ideas and you could win a $100 Visa gift card!
Read more
Lean Pockets have no artificial flavors, a good source of protein & have 100% real cheese. Read our bloggers posts where they will tell you their guilt free experiences with Lean Pockets. Plus get a chance to win $100!
Read more