Embracing Reality With a Sense of Humour
Ash to ash and dust to dust; yup that is what we reflected on yesterday, Ash Wednesday. Since it is now Lent, how about some quotes on the reality of our human condition, seen through a humourous lens of course; it wouldn't do to be morbid and depressing about reality. As my kids say, " It is what it is, right?" You can't do anything about reality except embrace it with a wry sense of humour.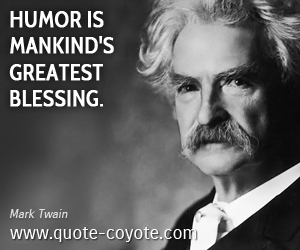 If I had no sense of humor, I would long ago have committed suicide. Mahatma Gandhi
A sense of humor… is needed armor. Joy in one's heart and some laughter on one's lips is a sign that the person down deep has a pretty good grasp of life. Hugh Sidey
Common sense and a sense of humor are the same thing, moving at different speeds. A sense of humor is just common sense, dancing. William James
You can turn painful situations around through laughter. If you can find humor in anything, even poverty, you can survive it. Bill Cosby
A person without a sense of humor is like a wagon without springs. It's jolted by every pebble on the road. Henry Ward Beecher
Imagination was given to man to compensate him for what he is not; a sense of humor to console him for what he is. Francis Bacon
The Joy of Mothering
&
ADD A COMMENT
Recent Posts
by melanie jean juneau
Most Popular
Simply Beverages™ use never-from-concentrate juices in all of their beverages. And they never add any preservatives, colors or artificial flavors. Read our bloggers' posts and find fun beverage recipes you can serve this summer! Plus get a chance to win $100.
Read more
Excedrin® Migraine relieves sensitivity to light, sensitivity to sound, nausea and relieves pain in just 30 minutes. Read our bloggers' posts as they talk about their experiences with migraine and how they cope with it. Plus get a chance to win $100!
Read more