THE ESSENTIAL BRIDAL LINGERIE DO'S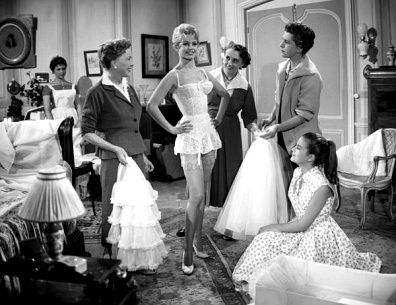 Are you all ready for your "happily ever after"? So… what are you wearing under? As we've decided a few topics ago, what you wear underneath and how it makes you feel inside is as important as how you look outside! Henceforth, this theory most definitely applies ever more so on the most important day of your life -- Your Wedding Day.
So now you may be wondering… What lingerie will perfectly go with your gown style? Are you wearing a sheath dress? An A line? A mermaid or a ball gown? What type of bra for your backless gown? Color? What about Hosiery? Should I wear a bustier? Ooh! Lingerie disasters? What to avoid???
Oh wow, if that's seems like a lot to handle and juggle together with the wedding organization itself, then let's take a few moments and maybe a day or two to tackle them one by one.
First things first, DO avoid disasters:
During your gown fitting, bring the lingerie you plan to wear. Bras, bustier and shapewear can drastically change the way the gown hangs on you. So Yes. This is terribly important.
Pay attention to color. Your safest bet, since you are most probably wearing white, is ivory or beige.
Bring an extra pair of hosiery. Snags and runs can happen even on the most perfect day and we want it to stay that way.
Rehearse your lingerie. If you plan to wear a brand new bustier, corset or shapewear, wear it for a whole day a few days before the big day. This will give you a chance to test its comfort and fit as opposed to how it will support your shape while wearing your gown.
If you are getting dressed away from home, minimize the risk of misplacing these delicates amongst your other clothing by preparing a checklist and packing a separate lingerie bag.
So you're wearing this huge ball gown and uhm… you need to pee. First of all enlist the help of one or two bridesmaids. Your best bet would be to remove your panties, choose the handicapped stall (hopefully there is one where you are at!) lift your dress up to the waist, and straddle the seat to pee. Another one would be to consider wearing a thong, this way when you squat you can just pull it aside to pee.
Second, Do consider your gown style when deciding on your lingerie:
Sheath or the Column Gown – These gowns flow right down the body, so go for a clean silhouette and consider going seamless to avoid bulges, cuts and lines.
A-line or the Princess Style – Considered the most flattering and most forgiving for any figure. You will be able to forego lots of shaping and go for comfort especially from the waist down, so focus more on your upper torso. Make sure no lines, bulges or creases are coming from your lingerie underneath.
Mermaid – This fit is figure hugging and shows off your shape, hence again go for a clean seamless silhouette. Also consider a high waist shaping lingerie such as a waist cinching seamless thong.
Ball Gown – This style accentuates the waistline, a good strapless and seamless bustier or corset is a good option to slim the torso, support and lift the breast.
Backless Gown – If you cannot forego wearing a bra, then investing in the low back strapless or convertible bra is your best bet.
Third, DO not consider color.
Unless you are the bride of Frankenstein or of the unconventional kind and you are opting for a gown that is not of the white or off white color, then YES PLEASE! Color will most definitely add color to your wedding day and night, if you know what I mean… But since most of you ladies are opting for the customary white then to be safe go for hues in natural, ivory, brown or beige tones. Although, depending on the fabric of your gown, white lingerie, still does work if you are going for the "pure & virginal".
Fourth, DO wear hosiery.
Again unless you are going for the casual beach wedding motif, it is but only elegantly appropriate to wear hosiery. Thigh highs are an awesome option for full-skirted gowns. Garter belts to hold them up are definitely SEXY. For mermaid styles that skim the whole body, thigh highs with lace tops to hold them up are in order. You can also opt for full on panty hose to hold up not only the thighs but the tummy as well.
And last but not the least, DO follow these essential tips coz just like your marriage, you'll want Your Lingerie for EVER AFTER.
"Move fast. And always wear shoes you can run in." ---Follow Samantha Jones on FB, for more wise words and spankin' lingerie . =)
More Like This
Recent Posts
by Samantha S Jones
Our bloggers include LISTERINE Antiseptic in their regular oral health routine. See why and get a chance to win $100.
Read more
Recent Comments
on Weddings and Anniversaries