Everything Tastes Better When It's Shaped Like an Egg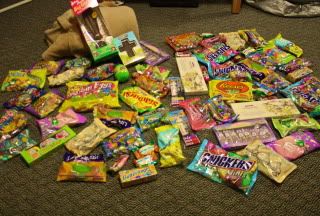 Although I have never been an especially religious person, Easter does hold a special place in my heart. When I was a child, I spent every Easter at the beach with my dad. I never really questioned why the Easter bunny insisted on bringing me little plastic baskets with a stuffed rabbit and Fun Dip when I was with my dad, while a giant hand-woven basket with movies and chocolate always waited at my mom's—I just assumed that I was lucky he could find me at all when I was away from home.
While I treasure every second that I spent with my father, the weekend before Easter was what I really looked forward to each year. I always spent this weekend with my grandmother who, in the grand tradition of grandparents across the globe, essentially spoiled me rotten. Each year she would boil somewhere between two and three-dozen eggs for us to dye before she even picked me up from school. Afterwards, we would go to all the supermarkets in town to find the best egg dyes and pick out more Easter candy than one child could ever hope to consume. We spent all night on a sugar high, messily dying eggs and watching old movies, until our enthusiasm was replaced with exasperation and we were forced to call it quits. For days afterwards my hands stood as a proud rainbow display of our perfect weekend.
Years have passed since I spent Easter this way, and while I wouldn't trade these precious memories for anything, there is one tiny drawback: the very serious addiction that I now harbor for all things edible and egg-shaped (and I know I'm not the only one).
As a result, a few Easters ago my best friend and I decided to conduct a purely scientific experiment. At midnight, we traveled around to all the 24-hour pharmacies and supermarkets we could find. That night we bought over 30 lbs of discounted Easter candy (literally, we weighed it), shown above. Although consuming that much egg-shaped candy over the weeks that followed was rough, we needed to come to a solid conclusion. After much deliberation, we decided that our childhood hypothesis was correct: almost everything does taste better when it is shaped like an egg.
If anyone needs me tonight, you will most likely find me lurking around the West Hollywood CVS with my best friend, waiting for the midnight discounts to kick in. Try not to get in the way though, because I will fight you for that last bag of Butterfinger eggs.
I hope you all have a safe, happy and delicious Easter!
Recent Posts
by Lee Nance
Our bloggers are great fans of American Idol from way back when the show aired 14 seasons ago! Well just so you know, it just started! Watch American Idol every Wednesday and Thursday 8/7 on Fox.
Read more