Father Knows Best: Images of Fathers in Popular Culture
Images of fathers surround us on television, in the movies, and through celebrity photography. Portrayals of good dads, bad dads, absent dads, well-meaning-but-feckless dads are everywhere. For Father's Day, I thought it would be fun to look at some of the iconic fathers who appear in popular culture.
First, I have to say that taking a closer look at fathers in our culture immediately makes two things apparent. The first was that there are a lot of fictional intact families that follow an unbreakable pattern apparently set out by the Big Book of Giving TV Audiences What We Think They Want. Mom is hard-working, patient, and wise. (This is great!) She often plays the straight character to dad, who is lazy, perplexed by his children, and schlubby, the latter of which is often called sharply into focus by the fact that mom is often attractive, fit, and better-dressed. (This is not-so-great.)
The second obvious theme that emerges is that if a father is competent, it is because the mother has died or is otherwise absent. What message does this send? That mothers are actually unnecessary, though they may be missed? That fathers can only assume responsibility if no one else is available?
That said, there are some fathers who do fall outside the normal expectations set forth by the media, which makes them memorable icons in my book.
1. Family Man Cliff Huxtable, portrayed by Bill Cosby on The Cosby Show, 1984-1992.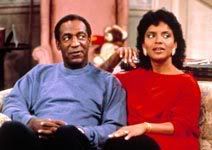 Despite some of the controversies that surround Cosby in recent years, his character Heathcliff Huxtable is still a breath of fresh air compared to other cliched sitcom dads. Cliff had a passionate and loving relationship with the mother of his children and took a hands-on approach to raising his kids by talking with them and taking care of them. Cliff was a doctor with a private practice out of the family home, and a few scenes of his interactions with his children were set in his office, showing that he was sometimes available to his kids even during his workday.
Cliff encourages his youngest daughter to eat her broccoli.
2. Regular Guy Dan Conner, portrayed by John Goodman on Roseanne, 1988-1997.
While the show focussed around its star, Roseanne Barr, her character's husband was a significant and strong part of the show. Barr's character is outspoken, feminist, and appears in most matters to be the head of the household, but Dan Conner makes himself heard on matters that are important to him, ceding to his wife at other times. Dan handles what could be tense confrontations with humor and agility. Dan is another TV dad who is involved with his children, and is especially close to his tomboyish daughter. His character was written to be imperfect, but still as a good model of a husband and father.
Dan gives Roseanne a special Mothers' Day Present.
3. Gil Buckman, portrayed by Steve Martin in Parenthood, 1989.
Gil Buckman is under a lot of pressure. His wife is newly and surprisingly pregnant with their fourth child, his son is diagnosed with emotional problems, and his extended family is experiencing turmoil as well. Gil is torn between wanting to have a successful career and not becoming a workaholic. In the end, Gil manages to create some balance in his life and achieve peace for the moment. Martin's character is likable, caring, and concerned about repeating the mistakes of his family's past, something that many people struggle with.
4. Brad Pitt, appearing as himself.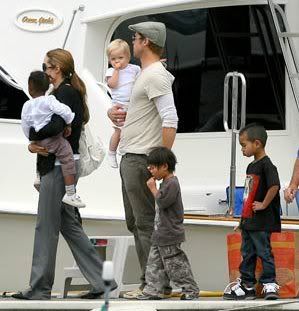 I know very little about Brad Pitt, except the fact he seems to have an interest in architecture and children. I can't speak to whether he is missing a "sensitivity chip" or not, but I do know what the celebrity photos show: Brad Pitt holding, carrying, talking to, and playing with, his children. His time and attention have got to mean a lot to them, as it does to any child. I think it's always nice to see fathers parenting.


5. Jack Arnold, portrayed by Dan Lauria on The Wonder Years, 1988-1993.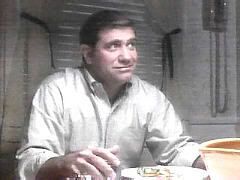 Anyone who's seen The Wonder Years knows that this is a sharp left turn on an otherwise cheerful list. Jack Arnold was often serious, gruff, and would reply to his son Kevin's questions about life with one-word answers. He was not a goofy dad, or the family boob. However, again and again I have met people who say that that this one fictional father seems real to them because he reminds them of their own fathers, realistic and with rough edges. Kevin asks Jack if he's "ever thought about his life" and Jack turns from the TV and replies, "Huh?" Occasionally he would surprise his son, by reminding him that he had been through some of the same things, like in the following clip.
Jack talks to Kevin about breakups.
6. Penguins. As in, penguins.
Over the past few of years, Hollywood has been seized by a penguin zeitgeist--a pengeist? Starting with March of the Penguins, and followed by Happy Feet and Surf's Up. Penguins are often mentioned as one of the few animals where the male of the species cares for the young as much as the female, by tending the egg and watching the chicks. This is portrayed in Happy Feet sweetly as the father penguins are shown dutifully, happily, and uncomplainingly caring for their offspring. Even if they are cartoons and a different species than us, penguins in popular culture are another example of outstanding fathers.
SJ writes at I, Asshole and will be feeding the father in her life special omelettes and too much bacon on Sunday.
Recent Posts
by Super Jive
Our bloggers share their favorite holiday picks from the HSN Gift Store. Read more and see how HSN's Flex Pay can help you with the big purchases this year!
Read more
Most Popular
on Entertainment