Feeling overwhelmed? 3 steps to shift from feeling overwhelmed to feeling empowered
Feeling overwhelmed?
Sometimes we feel like there's perpetual overwhelm, sometimes we know a specific event will send us into overwhelm, and sometimes it just sneaks up on us.
It's OK to feel overwhelmed. Let me start there. It's easy to think that you're not succeeding or you're not effective if you're feeling like it's too much. Not true. In fact, feeling overwhelmed can be a healthy sign that you're living a varied, full life (i.e., you're a parent

) because when you do so it can be darn near impossible to keep it from "overflowing" from time to time.
Here's the problem with feeling overwhelmed: It can have you – any of us – feeling unreasonably out of control and anxious. It pulls you away from believing that you're empowered and at choice. You can feel trapped and at the mercy of all your obligations.
So, what do we do? How do we handle overwhelm powerfully?
I'd love to hear from all of you. Please comment below and tell us how you deal with overwhelm. And, here's a simply process to shift feelings of overwhelm to feelings of empowerment.
1.) Identify the circumstances that tend to tip you into overwhelm.
For me, transitions periods tend to throw me into a little swirl. I've got 15 minutes in between meetings and I try to start 3 things at once and my mind spins about what I should be doing. Or I arrive at home with the kids at the end of the work/school day and I want to get everything set – backpacks unloaded, lunches made, dinner setup, my computer and electronics setup for charging, etc. – immediately. I find myself getting all wound up.
Consider what circumstances frequently send you a spinning. Is there a work-related hot button for you? Is it family conflicts? A certain time of day or week?
Why do you want to identify the circumstances that tend to tip you into overwhelm? Awareness helps. You can tell yourself, "Oh, of course, this is my trigger. No wonder I feel this way." With awareness, you can ensure the overwhelm doesn't unknowingly take over.
2.) List the specifics that are overwhelming you.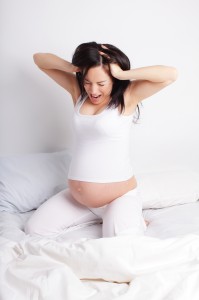 Identify them one by one. You may have the list right off the top of your head. Or you may need to roll back time a little and look for when the feelings of anxiousness started seeping in. Identify moments, circumstances, tasks, commitments that are causing you to feel over-taxed.
Why am I asking you to lists these specifics out? Wouldn't that stress you out more?
When you list them, you can get a handle on them. Again, awareness helps. And, you may find there are less items or concerns than you thought. Each one may seem quite handle-able on its own. It may just be the accumulation that feels like too much. Or… if that's not the case, you have a clear picture of what you're dealing with. You can then see which ones are outside of your control and that you may just need to work to accept. You can see which ones are seemingly little and which ones are looking big.
3.) Choose what you're going to do about what overwhelms you.
Once you're clear on what overwhelms you, you can decide what you want to do about the overwhelming items.
You may see that some items are outside of your control and you can choose to begin releasing the worry you have. You may not be able to completely stop worrying (I wish I knew where the worry On/Off switch was. I'd let you all know!!), yet you can have a commitment to noticing when you're fretting and shifting your focus to something that soothes you.
There may be items that you can't directly control, yet you could choose to influence in some way. You can journal about what you'd like to have happen, you can share your intentions with others, you can do something – even something seemingly unrelated – to positively shift the circumstance or relationship.
You can choose to pick a couple of priorities and take a couple of baby steps. I often try to remind myself when I'm feeling overwhelmed about a big upcoming project or a series of decisions that need to be made; that all I ever need to know in any moment is the next step I want to take. Just the next ONE. I don't have to know how it's ALL going to go. You may choose to bite off a little, manageable chunk. It's amazing how the world can look drastically different after you digest just that one little bite.
Comments
Related Posts
More Like This
Recent Posts
by Amy Riley
Our bloggers use the new ARM & HAMMER™ Truly Radiant™ Collection for a radiant smile. Read their posts where they share a few of their real-life experiences and advice on how to feel radiant day-in and day-out. Plus get a chance to win a $100!
Read more
Most Popular
on Pregnancy
Recent Comments
on Pregnancy