Finding a New Normal Through the Grief
When I saw this posted on facebook, it was as though somebody had taken the words right out of my mind. I often find myself wondering who I am now. I know that I'm not the same person as I was before Finley died, or even before I got pregnant and dedicated my life to being a mother.
So who am I now? I'm not sure.
I find it so incredibly strange sometimes, almost deja vu, to be back in the UK. I have started working and have been promoted to a role very similar to that which I was doing right before we got married, moved to Italy, and found out we were pregnant. It's almost as though nothing at all has changed, like I am back to where we started. And yet EVERYTHING has changed.
Continue reading at http://dear-finley.blogspot.co.uk/2012/09/finding-new-normal-through-grief.html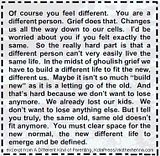 Lisa xx
Finley Arthur Sissons 23/03/2012 - 26/03/2012
Recent Posts
by DearFinley