Clever, Comfy & Cute! Folding Flats for Funky Feet
BlogHer Original Post
I don't know about you, but I spend a lot more time walking around outside in the Summer than any other season. I'm far more likely to go to dinner or for drinks downtown (where I know I'll be walking a few blocks from where I park) when the sky is clear and my wool coat is a distant memory. But summer dresses mean a lot of strappy sandals, funky wedges, and killer heels. And those don't always go well with that whole walking thing, you know?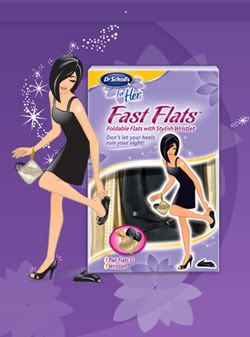 Whether I'm hitting my own little town or exploring another city (like, say, San Diego next month -- anybody?), if there are sexy shoes on my feet, you can bet that I'm packing another pair of shoes in my purse. But, in order to avoid carrying a backpack or duffel bag around, I stick to a spare pair that's practically pocket-sized -- I rely on fold-up flats.
Fortunately, there are lots of options out there at various price points, so it's easy to spend a few bucks for a disposable pair you'll just wear on the walk home, or shell out a little more for a pair you'll wear even when comfort isn't at the forefront of your mind!
At the low end of the dollar spectrum, we've got Dr. Scholl's Fast Flats ($9.99 at drugstore.com), which don't offer you many options in terms of size or color, but the flats do come with a wristlet, and I would definitely recommend some sort of bag in which to keep your shoes. I mean, do you really want the soles of your shoes rubbing up against, like, your phone, or your makeup? Ew. No.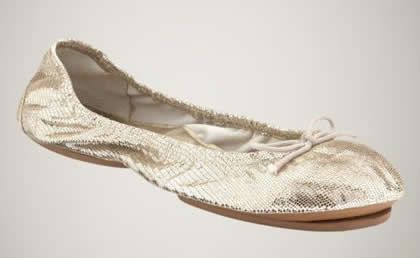 For a step up and a wider variety of sizes and colors, check out Gap's City Flats ($39.95). I have an old pair in metallic silver, and I love them. The metallic sheen has done an amazing job of hiding spots that are dirty, wearing thin, or that were chewed on by a dog. (Yes, really.) But a word of advice -- go a size up, or they get really tight, really fast.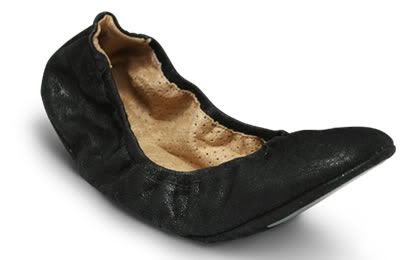 Blake Brody flats ($98-$135) are actually designed to be worn for yoga and Pilates as well as everyday activities, so they have a lot of flexibility, not to mention the fact that they come in five different styles and a number of colors. You can opt for something a bit on the simple side, like the Robin shoe pictured above, or go with more bells and whistles (or, you know, bows, as the case may be) with the Amanda.
One of the brands I haven't tried but have heard amazing things about is Tieks ($145-$265). Available in more than 20 colors and patterns (including metallics, snake prints, bright patents and more), they're stylish, fun, and by all accounts super duper comfy.
Now, I don't know for certain that the following two actually fold up -- I don't own them and haven't tried them on. But if they aren't foldable, they're certainly smashable, and definitely adorable.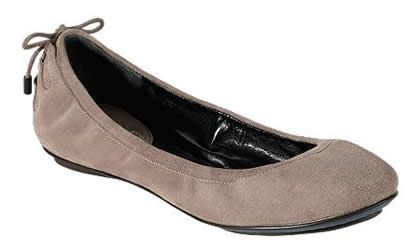 The Cole Haan Air Bacara Ballet shoe ($148) comes in six colors ranging from suede to metallic and has the coolest lace-up detailing on the back. Gorgeous, right?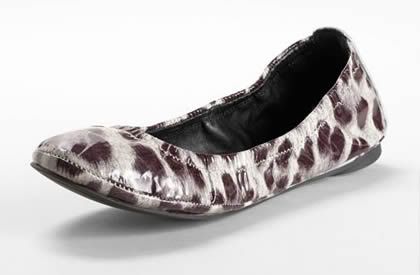 Tory Burch's Eddie Ballet Flat ($178-$198, with select colors on sale for $125 and $149) offers a fabulous array of colors and wild patterns. Couldn't you see these leopard print flats livening up a pair of black pants and a bright top?
Kristen Seymour writes about shoes, dogs, fitness and more at Jeez-o-petes, but more often than not, you'll find her blathering on about nothing in particular on Twitter.
Comments
Related Posts
More Like This
Recent Posts
by kgseymour
From wipes, to bleach to clean up spray, Clorox covers all your clean, sick-free home needs. See why our bloggers use Clorox products in their home plus get a chance to win $100!
Read more
Most Popular
on Fashion & Beauty
Suave Professionalsᆴ Reviews & Sweepstakes
With a little help from Suave Professionals®, bloggers show us how to get their go-to radiant night out looks. Read their posts and enter for a chance to win $1,000!
Recent Comments
on Fashion & Beauty