Food Bloggers Share Picks on Where to Eat in Austin if You're Attending SXSW
BlogHer Original Post
Over the next few weeks, literally thousands of bloggers, techies, film-makers, and musicians will be descending on Austin, Texas, for the SXSW Music, Film, and Interactive Festival which runs from March 13-22 this year. I doubt all these folks are as food-obsessed as I am, but since I'm going to SXSW as part of a panel about food blogging, I've been checking for weeks to find the "don't miss" places for good food in Austin.
I know three food bloggers with ties to Austin, and they've been happy to share opinions about where and what to eat, so here are Austin restaurant picks from Homesick Texan Lisa Fain, Anna Ginsberg from Cookie Madness who lives in Austin, and Addie Broyles, a food writer for the Austin American-Statesman who blogs about food at Relish Austin. If any BlogHer readers have favorite Austin restaurants to share as well, please chime in with a comment!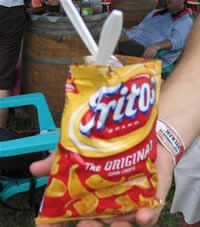 Photo of Frito Pie from Slashfood
Group Picks for Great Eating in Austin:
After I asked my three Austin food experts to send me their restaurant ideas, I was amazed how little overlap there was on the lists, so I thought it was worth spotlighting places that got mentioned more than once. Lisa and Addie both included Shady Grove, with Lisa remarking that the Frito-Pie-in-a-Bag here is not to be missed, while Addie says Shady Grove is a great watering hole. Another place that made more than one list is Home Slice Pizza, which Anna calls "the home of Austin's best pizza." Then there's La Condesa, a relatively new Mexican restaurant that Addie says had "everyone in town buzzing," even before it opened. Also dishing up Austin's brand of Tex-Mex cuisine is Chuys, a place with Elvis Presley-inspired decor, and famous for being where one of the Bush twins got busted for fake I.D. Another classic Austin place is Jo's Coffee, which Anna says is "great for eating alone or for a casual lunch."
Five Austin Restaurant Picks from Lisa:
Five Austin Restaurant Picks from Anna:

Five Austin Restaurant Picks from Addie:
More About Texas Food or the Austin Food Scene:

Kalyn Denny shares her passion for low-glycemic cooking at Kalyn's Kitchen. She's excited to be participating at SXSW as part of a panel on foodblogging that also includes Rachel from Cupcakes Take the Cake, Zach from Midtown Lunch, Kathy from Not Eating Out in New York, and Addie from Relish Austin.
Recent Posts
by Kalyn Denny