Food & Foodie Gifts: Ten Ideas & Ten Links for More Ideas
BlogHer Original Post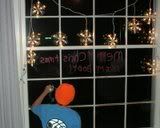 Shopping's not my thing. The last time I visited a mall was in, hmmm, I can't remember the last time I visited a mall but for sure haven't yet (it's a point of pride) crossed the threshold of the Nordstrom's that opened five miles away five years ago.
And yet, when it comes to gift-giving, I love my nephew's enthusiasm. When he was five, his grandmother asked about Christmas presents, expecting a litany of gift wishes. Instead, he exclaimed, "We have so many presents to give!" And so we do. Here are a few low-key gift ideas for the food people on your holiday list, plus links to many food bloggers who have collected their own ideas for food and food people gift-giving. Happy 'shopping'!
The Omnivore's Dilemma ~ Michael Pollan's riveting book will be, I believe, the Silent Spring of our generation. It's appropriate for anyone who eats, especially those who are 'green' even if not perhaps cooks. An alternative is Barbara Kingsolver's Animal, Vegetable, Miracle.
Ratatouille ~ Yes, there's a rat on the list, Disney's 2007 hit movie, now available on DVD.
World Cuisine Sampler ~ For a Spanish Sampler, assemble marcona almonds, manchego cheese, Spanish olives and a bottle of Spanish sherry. But you could do a French Sampler, an Italian Sampler, a Thai Sampler, a Mexican Sanpler. So many choices!
Foodie Fight ~ The great new game "trivial pursuit" game about food, reviewed by me when I met the developer in the fall. It's just great fun and is taking the food world by storm.
Penzeys Gift Pack ~ Herbs and spice, everything nice. For home bakers, I recommend two long-time favorites, the original cake spice or the newer baking spice and my favorite cinnamon. For savory cooks, I recommend aleppo pepper and the smoky paprika called pimentón.
Spice Drawer Organization ~ Here's a "no purchase required" idea. Offer to straighten out someone's messy spice drawer. Be sure to sniff for freshness, then make a list of those that need replacement (if it smells dusty, it's not worth using anymore).
Blog Subscriptions ~ Another "free" idea. Ask your gift recipient about his/her food style, what kind of recipes are favorites, what kind of foods they'd like to cook more of. Then go to your favorite food blogs that fit the criteria and sign them up for e-mail subscriptions. Or if you're an RSS user, see if the recipient might use RSS: my sister, for example, is a Bloglines fiend since I set her up last spring.
Digital Meat Probe ~ I have one similar to this. The probe goes inside the meat (or the bread or ...) but the display rests nearby on the counter or grill shelf. With a thermometer, there's no over- or under-cooking meat. Just know the target temperature, then set the alarm for a few degrees below and you can not only watch the progress but get some warning when to pour the water.
Ice Cream Processor ~ It's like Baskin Robbins' 43 Flavors in your own kitchen, except way better. I've happily used a Cuisinart model for five years and just love it. Be sure to pick up one of this year's top cookbooks, Scoop for ideas for ice cream, sorbet, yogurt, granitas and more.
Good Olive Oil, Good Vinegar ~ If there's a single new indulgence in my kitchen, it's really good olive oil and really good vinegar, stuff that even that same gift-giving nephew, now a strapping teenager, exclaimed during a taste test last summer, "We could drink this". I'm particular fond of the citrus-infused oils, especially Tahitian Lime, and the dark and dusky sherry vinegar. Thanks to these beautiful oils and vinegars, I look forward to making salad nearly every single day. Does your gift recipient know how to make salad dressing? Teaching someone how is a gift all its own. Here's my own favorite way to make salad dressing, all endlessly different.
For still more gift ideas for the special foodies in your life, food bloggers are posting gift guides, too.
Chez Pim ~ For the Cook Who Has "Everything", high-end kitchen gifts
Chow ~ Chow's Winter 2007 Gift Guide, lots of gift ideas, scroll through items in your price range
Fresh Approach Cooking ~ 12 Holiday Gift Ideas for Chefs, Cooks, Foodies & the Like, kitchen gadgets, specialty foods, even tableware & food jewelry!
Homesick Texan ~ Homesick Texan Holiday Gift Guide 2007, whatever every homesick Texan might desire
Hooked on Heat ~ A Foodie's Favourite Gifts 2007 including Delectable Experiences, Delicious Reads & Edible Delights
Jumbo Empanadas ~ It's That Time of Year, Bri's personal favorites for the kitchen
Just Bento aka Just Hungry ~ 2007 Holiday Gift Guide for the bento fan in your life
Just Braise ~ Gift Ideas for the Foodie in Your Life, homemade goodies, food books and 'good works'
Ms. Adventures in Italy ~ Italian Food Gifts & Italian Kitchen Gifts
Start Cooking ~ The Ultimate Food Gift Guide for the Holidays, many with discount codes
Weekly Dish ~ What to Buy for People Who Cook, kitchen tool, cookbook, gift foods & kitchen fashions
And my favorite
Not Eating Out in New York ~ Charity Gift Guide, food-related charities for donations, in the name of a foodie friend
This week, BlogHer food editor Alanna Kellogg and other St. Louis food bloggers posted ideas for St. Louis food gifts.
Comments
More Like This
Recent Posts
by Alanna Kellogg
From wipes, to bleach to clean up spray, Clorox covers all your clean, sick-free home needs. See why our bloggers use Clorox products in their home plus get a chance to win $100!
Read more