Foodlady Librarian - Kickin' It Old School
How many glugs equal one cup?
I will never be the Homemaker of the Year. For one thing, if I had to submit recipes, no one could follow them. That's because I learned to cook without recipes and many of the dishes I make come from that era of following my mom's verbal instructions. I'm not sure that I knew cookbooks existed when I knelt up on a kitchen stool and heard from Mama, her back turned as she peeled something over the sink, "Put a couple of scoops of that cornmeal mix in the bowl. Now break in an egg. Pour in about three glugs of milk. Stir it until you don't see any lumps. Let me take a look. That's good, just a little more milk. Let's mix in this hot bacon fat and pour it in the skillet. Put it in the oven and it'll be ready for supper." You can see the problem, can't you? How much is a scoop and how do you measure a glug of something? This is the way I learned to make, among other things, biscuits, potato salad, fried chicken, banana pudding, macaroni and cheese and apple pie. I didn't know there was a recipe for pie crust until I signed up for home economics in high school. There I learned to follow several new recipes including three formulas for light, medium, and heavy white sauce. We had to memorize and be tested on them. I'll let you guess how many times I have made white sauce since high school. You got it. Zero.
Is white sauce going to be on the test?
Probably because of the casual way I learned to cook I especially enjoy what I think of as conversational cookbooks. Lately I have been interested in One Big Table: A Portrait of American Cooking by Molly O'Neill.
Coast to Coast Recipes with Stories
Subtitled 600 Recipes from the Nation's Best Home Cooks, Farmers, Fishermen, Pit-Masters, and Chefs, this book has it all. A paragraph about the origin and history accompanies each recipe. Additional sections include topics such as the social history of stoves, raising beef, and An Unrefined History of Bread. This book is so much fun to read that I haven't even begun to cook from it but when I do there are seven fried chicken recipes, all different and all sounding delicious. I'm considering Blackberry Farms Tea-Brined Batter-Fried Picnic Chicken. Or perhaps Reverend Wayne Lee's Piping Hot Chicken. But then I turn the page and find Etsuko Scholz's Panko chicken and I wonder if Jeff Beil's buttered radishes and Big Mama's Whipping Cream Pound Cake would round out my menu. These are hard choices but someone has to make them.
Another wonderful conversational cookbook that I have been taking to bed with me for many nights is Darina Allen's Forgotten Skills of Cooking: the Time-Honored Ways Are the Best -Over 700 Recipes Show You Why.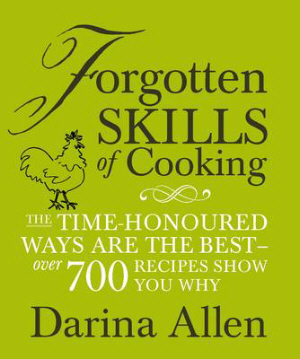 Old Fashioned Ways Better Found than Lost.
Allen, who has been called the Julia Child of Ireland, has run the Ballymaloe Cooking School for 25 years.
My school looked nothing like this!
Her book also includes sections explaining subjects related to cooking such as foraging, preserving, cheese and yogurt making. As for the recipes, the variety will be surprising for those who think of Irish cooking as oatmeal, lamb and soda bread. All sorts of game, seafood, vegetables and baked goods are included. And I'll warrant you that you haven't, at least lately, cooked crubeens(salted pig's trotters - see below), gooseberry and elderflower tart, or Bastible bread. Never fear though; the majority of recipes in this book contain readily obtainable ingredients for American cooks. Ms O'Neill and Ms Allen have each performed a great service to cooks by making these recipes available in such a friendly and interesting format. It's almost like having Mama telling me what to do. And yes, she still does that sometimes.
Arbutus Lodge Crubeens from Forgotten Skills of Cooking:
6 crubeens (Salted pig trotters), 1 large onion, 1 large carrot, 1 bay leaf, 6 parsley stems, sprig of thyme, a few peppercorns. Place all ingredients in a large pot, cover with cold water, bring to a boil and skim. Boil gently for 2-3 hours or until the meat is soft and tender and falling off the bone. Eat either warm or cold, with a little mustard if you wish.
Recent Posts
by Gourmet Gadget Gal