French Toast à L'Orange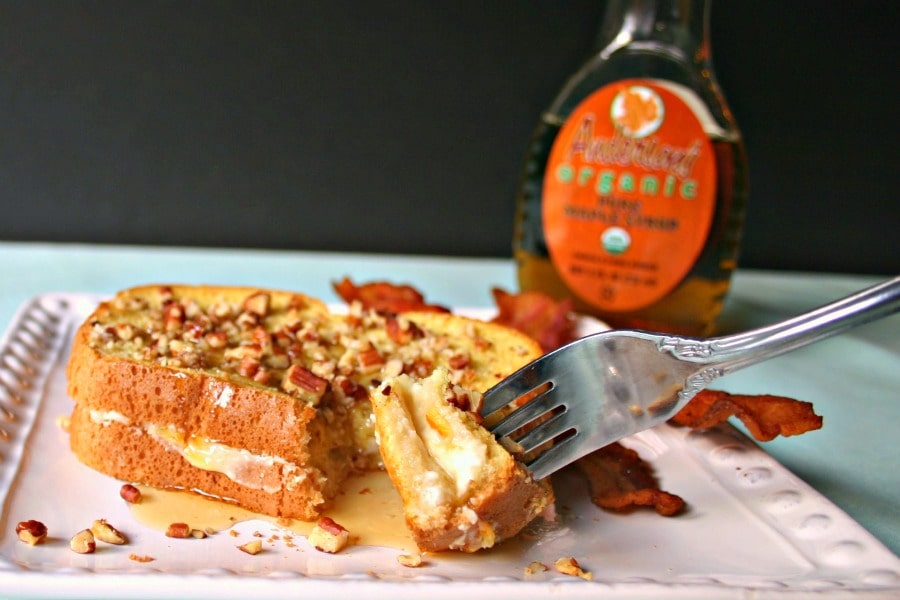 Good morning, Sunshine! Isn't it amazing what a little sunlight can do for your soul? After a week of snowy weather and cloudy skies, seeing the sunlight beaming through our window this morning was a welcome sight and made this French Toast à L'Orange taste just a bit like Spring!
Our pantry and fridge haven't been restocked in a few days, but with just a little creativity, this delicious French toast occurred. Part of the fun in cooking for me is seeing what I can "concoct" – as John would say – from what we have on hand, and sometimes, like today, it ends up on my repeat list. John gave this breakfast five stars, so I decided the recipe deserved a sophisticated name, hence French Toast à L'Orange!
Tips: For best results, use denser bread as noted in the recipe, but "day-old" regular sandwich bread could work. Serve with maple syrup or sprinkle with powdered sugar.
French Toast à L'Orange
Ingredients
3 oz. light cream cheese, softened
3 Tablespoons orange marmalade
8 slices Italian bread or Texas Toast
3 eggs
½ cup milk
1 teaspoon vanilla
¼ teaspoon nutmeg
2 Tablespoons chopped pecans
Instructions
Preheat oven to 350 degrees.
Lightly spray baking sheet with cooking spray.
Stir together cream cheese and marmalade.
Spread equal amounts of cream cheese mixture on top of 4 bread slices and top with remaining bread to make 4 sandwiches.
Whisk together eggs, milk, vanilla, and nutmeg.
Dip toast sandwiches into egg mixture coating on both sides and place on baking sheet.
Sprinkle pecans evenly over top.
Bake 20 minutes. Serve immediately with maple syrup.
Related Posts
More Like This
Recent Posts
by LifeLoveAndGoodFood
Our bloggers recreated the Merry Berry, Festive Flirt, Playful Party Girl and Holiday Romance looks using Mary Kay® products. Check out the different looks you can do this holiday season!
Read more
Recent Comments
on Baking