Fresh Meal Fridays
As fresh as fresh can get: super easy Chicken Soup made from scratch.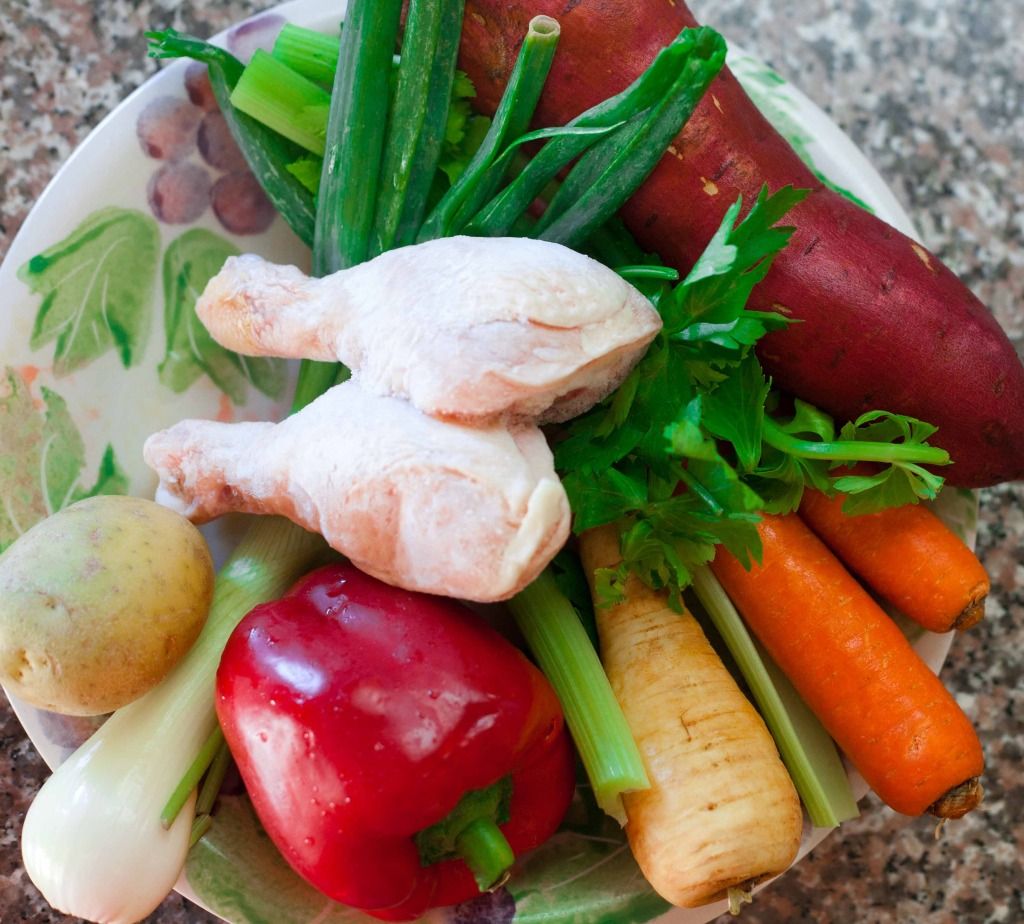 Ahhhh today's meal is the ultimate comfort food. I clearly remember my mom making this food for me whenever I had an upset stomach or was just feeling off. The aromas that enveloped me and the taste was soooo soothing for a weary body.

To this day, the smells and taste of this soup always make me feel as if everything is good OR is going to be ok. I know that right around the corner there is something good to come whether it be healing, fun times, new and exciting ideas, or bouncing kids filling the room with life.

Everything in this soup is usually made from scratch. My grandfather has a traditional recipe for making egg noodles, though, if you do not have access to home made noodles - store bought noodles can be used as a substitute.
Those onions up above - fresh from our garden! Love..

Here is the down low:
Servings: 4 - 6
Ingredients: water
2 chicken drumsticks
1 yam
1 potato
1 onion
1 parsnip
2 carrots
1 red pepper
Parsnip to taste
egg noodles
1 tablespoon salt
1 teaspoon pepper

Directions: Put the 2 chicken drumsticks in a medium sized pot, and let the kids put about 10 - 15 cups of water in the pot. (chicken should be completely immersed and you should still have about two inches of water left for veggies and noodles.)

Add salt and pepper and let the chicken boil for 30 - 45 minutes.
Add legumes and let it simmer for another 45 minutes.
Add noodles and let it simmer for another 15 minutes.

DONE! Easy peasy!! And let them kids get involved though be careful so they dont throw the veggies or noodles in the water or else it will splash and burn! But they love helping and for whatever reason, eating whatever they made seems to entertain them. Get them involved alongside you - it'll be fun.

Side note: Some people like to boil the noodles in a separate water and then add them to the completed soup. This offers a very clear broth and could be done if you have a few extra minutes on your hand.
ADD A COMMENT
Recent Posts
by fanta4two
We asked our bloggers to craft some recipes from the different Success® Rice flavors and tell us about it. Check out their ideas and you could win a $100 Visa gift card!
Read more
Lean Pockets have no artificial flavors, a good source of protein & have 100% real cheese. Read our bloggers posts where they will tell you their guilt free experiences with Lean Pockets. Plus get a chance to win $100!
Read more