A Little House Fun Five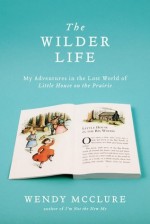 Now that I've been home from my mini-vacation/BlogHer Food 11 trip for a few days, I'm almost feeling "normal" again. I did not read a single book, or even a single page of a book, during the entire trip! (I told you I'm not good at reading while on vacation!)
The book I'm reading now is The Wilder Life and today's five are inspired by the first few chapters I've gotten through, so far.
1) Do you consider yourself a Laura Ingalls Wilder fan? (Why or why not?)
2) Do you currently own the Little House books? (All of them or just one or two?)
3) Do you prefer the books over the TV show or the TV show over the books?
4) If you could be best friends with any of the characters, from the TV show or the books, which would it be? (And why?)
5) Some people are very seriously attached to the Little House series and/or the characters from the series... some aren't. Which children's lit series are you most attached to? (And why?)
~Denise
BlogHer Community Manager
Life. Flow. Fluctuate.