Fun Quilt Giveaway to help Baby Mia get a new Heart. Ener to Win!!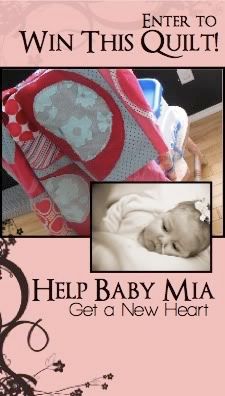 Click Here: http://a-mama-drama.blogspot.com/
Come enter to Win a Free Quilt. Made in hopes of generating donatations to help 3 month old baby Mia get a heart Transplant. Baby Mia has been in the hospital since birth. Her mom stays with her everyday, while her dad is playing the part of Mr. Mom at home to the other two small children and trying work to support the familly as well. Mia is hooked up to so many tubes her mom can't hold her, but she still stays by her side everyday.
ADD A COMMENT
Recent Posts
by stephhhead
Most Popular
Our bloggers chose Lucky Brand for its fit, comfort and unique details and finishes. Read more on the latest styles plus get a chance to win $100.
Read more
Latest comments
Embassy Suites by Hilton is a brand within the Hilton Worldwide portfolio that promises to provide what really matters most to the savvy guest. Our bloggers took a family getaway to experience Embassy Suites by Hilton. See everything they had to say and comment for your chance to win $100!
Read more