Gain Exposure with Twitter Trends
Hey girls,
If you tweet from Twitter.com, have you ever noticed the "Trends" column on the right-hand-side? It's about half-way down. Twitter is using an algorithm containing your Twitter account location to yield the Trends query. Often times the trends are reflective of breaking news from around the world, like #Libya, or something as normal and basic as #WorstFeeling. It changes every day and it's certainly worth looking at.
Here is a screenshot snippet of the Twitter Trends occurring in Los Angeles on August 22. In an effort to gain more exposure for my Twitter handle and my personal brand, I would participate in some of these trends if I felt that I had something valuable to contribute.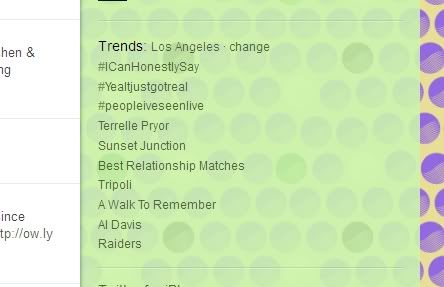 I practice what I preach and joined the #ICanHonestlySay Twitter trend here.
Are there Twitter trends you frequently participate in, other than #FollowFriday? I'd love to hear them!
Related Posts
More Like This
Recent Posts
by allison_n
Domino and C&H Pourable Brown Sugar and Quick Dissolve Superfine Sugar now come in all new, easy to use dispensers with re-closeable flip-top lids. Our bloggers tried out these great new products. Read more PLUS get a chance to win a $100.
Read more
Most Popular
on Blogging & Social Media
Recent Comments
on Blogging & Social Media