General Hospital: Celebrating 50 Years
The month of March is definitely going to be the kick-off to the 50th Anniversary for General Hospital and the writers are definitely not holding anything back.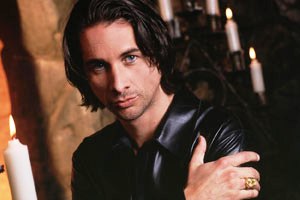 This week alone on General Hospital we got the continuation of the Caleb/John McBain story as well as the ending. Turns out that Caleb is actually Stephen Clay (a nice nod to the fans of Port Charles who remember the vampire storylines and yes they are still popular with those fans today regardless of the cancellation of Port Charles). Lucy continued to believe that she was truly a slayer and had to kill the vampire known as Caleb, it was John in the end who killed his doppleganger. It was a nice ending to a story that had the fans of the show divded, now I know people will ask if it really has ended and I would definitely venture to say no (I mean hello they did a close-up of the ring and it sparkled) but with Michael Easton having to back East to start filiming on One Life To Live it looks as though that may be the end of Caleb Morley aka Stephen Clay.
It was also nice to see Erin Hershey reprise her role of Alison Barrington as I feel that they really misused the actress (I have always been a fan) but I have to say that writers did the character justice by having her appear to Lucy and then her son Rafe and reassure everyone that she is ok. Speaking of Rafe, how great were the scenes between him and Heather Webber. After Heather stabbed her son Steve, I was expecting her to be even more crazy but the conversation she had with Rafe was refreshing and gave a whole other side to Miss Webber. I was equally surprised to see her turn herself in to the police.
Speaking of Steve being stabbed, I am guessing that when the next week starts we will be saying our goodbyes to Dr. Webber. It is a shame that writers couldn't find things to do with him especially given his relationship with Olivia but as with all soap operas, you have to make your cuts somewhere. It will be interesting to see how Olivia reacts to Steve being gone and it will be interesting to see how her "visions" will be changed with this new development of the "love of her life" leaving.
Elsewhere in Port Charles, can I just say that I LOVED the scenes between Tracy and Duke. There is some major chemistry there that should definitely be explored (I know, I know Duke and Anna are meant to be together but the man deserves to have a little bit of fun). I have to say that I am really enjoying the Quartermanines being part of the story again and how they are trying to save ELQ with the help of Lila's pickle relish. It is classic stories like this that have kept General Hospital alive for 50 years. So please writers more and more Quartermaine drama please!
On another topic, who else is just about done with Dr. Britney Westnile. Ugh I honestly cannot put into words how much I dislike this character. It's not even a love/hate type of thing, I just hate the character so much. I realize that she is supposed to be a villian but please, please, please explain why she is just such a horrible overall type of person. With that said, the actress is doing a great job because I really feel as though the writers want you to just hate this person. The things that the character has done to Sabrina is just horrible, I hope that we get more of a backround on her and find out why she is such a beotch. Speaking of Westnile, I also have to mention Frisco whom I am just loving! How great is it that he is sticking up for his daughter and is putting the "good" Doctor in her place. Also loved the scenes between him and Spinelli, it was a nice mix of comedy in the drama of the show.
Last but certainly not least, how great is it to have Laura back on the show and how amazing does Genie Francis look! I tell ya with that new hair color/style she is looking gorgeous and youthful. As much as a hate Laura being with Scotty, I am enjoying that introduction of the characters back on the panel.
With all that said I am really looking forward to the coming weeks as we continue to celebrate that 50th anniversary of General Hospital. Something that I am really looking forward to is the Nurses Ball as I have always been a huge fan of the event and was so disappointed when they did away with it. It will be nice to see past characters come back for such a great celebration.
Comments
More Like This
Recent Posts
by samantha0006
Help protect your family from the transmission of harmful bacteria and viruses! Use Lysol's Full Bathroom Range to remove soap scum, lime scale, and everyday dirt and grime to leave your bathroom smelling clean and fresh.
Read more
Most Popular
on Entertainment