Get Out of the House (for Free!)
There's a whole other half of summer to get through, and here in Florida...it is HOT. Parks are basically out, but there are lots of things you can do with your kids for free (or cheap)...that usually cost money!

Here are a few of the things we've found to keep us occupied and out of the house during this 100+ degree weather:

1) LIBRARY:

I've mentioned this before, and showed off a music show that we went to the other week, but your local library is sure to have all kinds of activities for kids, probably weekly. I know Alachua County libraries have at least one kid-directed activity a week, usually many more. And they are all free. And different. No two library trips are the same! We went to story time this week. (Caution: get a good breakfast first, otherwise your little piggies will look as disgruntled as mine did.)




2) MOVIES:

Here in Gainesville, the Regency theaters offer $1 kids movies on Tuesday and Wednesday mornings! Not free, but close to it, and my kids love, love, love "the show!"

3)SPLASH PAD / POOL:

We have a free splash pad less than a half hour from our house. It's like a playground with water. Perfect for the Florida heat, and a low-impact outing for parents, who can just sit and relax in the shade while their kids run around in the water.

We also have a town pool that is amazing here! It costs a few dollars to get in, but it's huge, has lifejackets for younger swimmers, three diving boards and a water slide. It also has a splash pad area!

And, of course, we're lucky enough to live in a condo complex with a community pool in the back. I make good use of any water activities I can during these summer months.

4) BOWLING

Nationwide, AMF bowling is having a bowl-for-free summer program! You can go once a week for free, if you sign up for the service on their website. Now, free isn't free, of course. You have to rent the shoes at $4 a pop. But, still, it's a great way to spend a couple of hours. They even have little bowling ball slides for young kids like mine.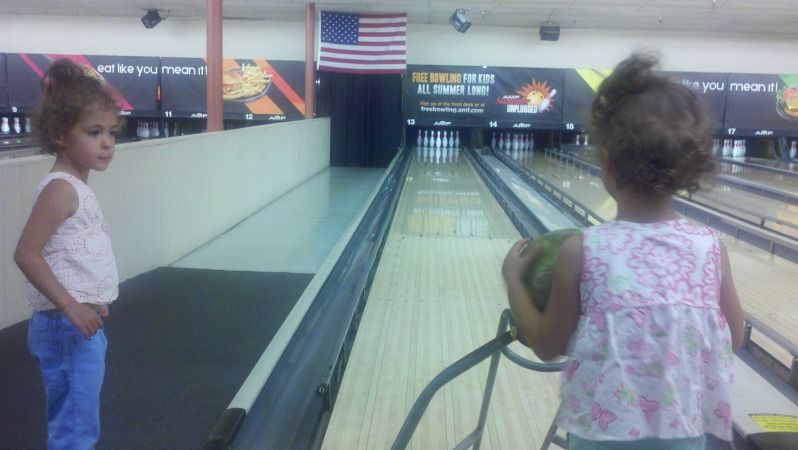 5) THE MALL:

We haven't been to the mall playland yet this summer because my kids have really weak immune systems, but it's nice to know that we have the option available to us, should we really need to go to a playground.

6) FARMERS MARKETS:

Kids love these, and adults do too! We just wander around looking at all the stuff and people, and sometimes we even buy some produce! It's a great way to spend a morning or afternoon.

7) MUSEUMS:

We have a natural history and art museum on the University of Florida campus that has free admission. They have a dinosaur exhibit right now, and a kids' room full of activities. My kids loved it. We will be going back many times. If you have a college campus near you, take a look at their activities list. Many colleges provide free entertainment to residents!

8) NATURE PARKS:

We have a plethora of nature trails and parks we can explore (the temps have to be a little cooler). Check your area for farms, trails, and wild animal preserves. I bet you'll find some you didn't even know about. Keeps kids engaged for hours!

___
If you like this blog, please vote for it here at Babble's Top 100 Blogs list.
Recent Posts
by parentwin
We asked our bloggers to craft some recipes from the different Success® Rice flavors and tell us about it. Check out their ideas and you could win a $100 Visa gift card!
Read more
Lean Pockets have no artificial flavors, a good source of protein & have 100% real cheese. Read our bloggers posts where they will tell you their guilt free experiences with Lean Pockets. Plus get a chance to win $100!
Read more