The Gift of my Brief Reprieve
Somewhere between deep sleep and semi-consciousness I find the "off" button on my cell phone alarm every single morning.
Reality begins to sift through my slow-moving brain as thoughts start firing in a synaptic but chaotic way. What day is it? Do I have meetings on my schedule? What clothes are clean and ready that might fit today's commitments?
These questions are met by some set of answers as my feet reach for the carpet and begin their trek toward the bathroom. Still foggy, I breach the threshold and generally raise my eyes at that point to see this: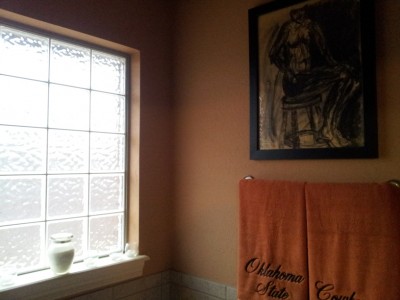 Set against terra cotta paint is a glass block window with an antique white sill. Candles are lined up across the sill while one of my daughter's first nude sketches hangs over towels heralding my alma mater.
For some reason this scene influences me to exhale, breathe in slowly and know that things will be okay. This tiny patch of my homelife welcomes me with sunlight most mornings, and sometimes...with a beautiful promise of a snowy day: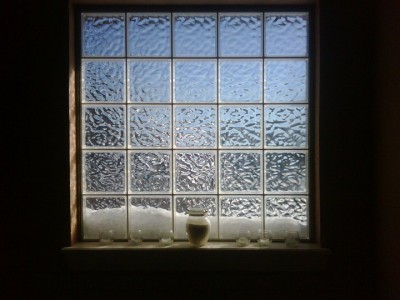 Every morning I can't seem to make sense of where I should start, and every morning my thoughts become clearer because of my bathroom corner.
I'm really not sure why. But for me, it is a gift that I count on. The gift of a peaceful morning reprieve.
***
Find me at the Red Dirt Chronicles...
Best, Red Dirt Kelly
COMMENTS
Recent Posts
by Red Dirt Kelly
Most Popular
We asked our bloggers to craft some recipes from the different Success® Rice flavors and tell us about it. Check out their ideas and you could win a $100 Visa gift card!
Read more
Lean Pockets have no artificial flavors, a good source of protein & have 100% real cheese. Read our bloggers posts where they will tell you their guilt free experiences with Lean Pockets. Plus get a chance to win $100!
Read more