The Golden Globes: The Good, The Bad, The Drunk
Year after year, for a screenwriter, Awards Season means one thing: a time to ruminate on my own epic failures of the past 365 days and lament that it's not me up there bashfully claiming a golden statue. Oh my ... This is so unexpected ... I think I may faint.
As such, how much I enjoy an awards telecast almost always relates directly to how I feel about my own career at the time -- last year I barely looked up from Twitter, lest I should have to catch a glimpse of the executive that passed me over on a writing assignment conspiratorially clinking glasses with that actress who never read my script no matter how many times my agent had lunch with hers and promised it was next on her list. Well, either this year is going to be my year (live tweeting from the red carpet 2012? fingers crossed!) or Ricky Gervais' haughty attitude was just what my ego ordered, because I thought last night's Golden Globes was a HOOT!!!
The Golden Globes -- or "The Globes," as I like to call them, since we're on a first name basis -- are like the drunk Ivy League co-ed of awards season. You know what I mean. Totally smart and valid and all that, but MAN are they a good time once the liquor starts to flow. (What? It's fiiine -- Aaron Sorkin said girls can be smart AND pretty AND party. Didn't you watch the show?)
Before I launch in to the winners, the upsets, and what they mean for this year's Oscar hopefuls, let's review what makes The Globes so grand -- the glitterati are too tossed to notice when the cameras are pointed at them, so you always get to catch a glimpse of a fun US Weekly moment or two. My finds in this year's telecast?
-- Angelina Jolie looked drunk as a skunk, am I right?
-- Marky Mark (who by the way is turning out to be quite the discerning producer -- a long way from posing in his Calvins, no?) looking left, right -- not forward -- missing the camera on him completely, and taking the least surreptitious swig of wine ever while Steve Buscemi was accepting his award.
-- James Franco pointing meaningfully across his table and mouthing "I thought you weren't coming" to whoever was sitting across from him.
-- In one of the sweetest moments of the evening, I loved experiencing the whirlwind of winning through the facial expressions of GLEE'S Dianna Agron (Quinn Fabray) as she mouthed "THIS IS CRAZY!!!" to castmate Chris Colfer.
-- And finally, this face on Susan Downey while her hubby Robert Downey, Jr. talked about wanting to bone each of the five Best Actress in a Motion Picture Musical or Comedy nominees:
OSCARS vs. GLOBES - APPLES vs. GRAPPLES
So they're not totally unrelated, but there is a key difference between the voting process for Hollywood's two biggest nights. The main difference is this: The Globes are voted on (and thrown) by the Hollywood Foreign Press Association (HFPA), which means that it's the critics, one big pool of them, voting on the winners. Now that Globes Celebrations are over, Hollywood is going to break down into guilds to vote on the remaining statues -- the list of specialized ceremonies is virtually endless, SAG, PGA, DGA, WGA, Indie Spirit ... okay, not endless ... but you get the idea -- there are a lot of them. Basically, in political terms, it's like the Golden Globes are the general election, and the Oscars are the primaries where voters are only voting within their own party. Except backwards, and you have to be invited to join the academy, they only take about a hundred new members each year, and once you're inside, actors vote on actors, directors vote on directors, and so on and so forth (except for best picture, where everyone gets to weigh in to select a winner.) So while statistically speaking the Globes are usually a good barometer for who will win Oscar gold, it's actually a completely different voting pool. Make sense? No? I should move on, anyway? Okay.
MOVIE OF THE YEAR GENERATION?
(How fierce is that poster?)
With the second most nominations (the first being The King's Speech), The Social Network was the clear winner of the night, taking home four of the six statuettes it was shortlisted for. Andrew Garfield introduced it as a movie that defined a generation, and he may well be right. We'll have to see how Zuckerberg and Friends fare at the various Guild ceremonies before nominations are announced for the big show on January 25th, but my prediction still stands -- The Social Network is deserving of all the praise it's been given and will take home the top honors at the Kodak Theater come February.
Where I expect the see The Social Network take a back seat is in the acting categories -- Colin Firth and Geoffrey Rush's performances in The King's Speech might be just too heart-swelling for those touchy-feely actors to pass up.
BUT WHO WILL BE AMERICA'S SWEETHEART?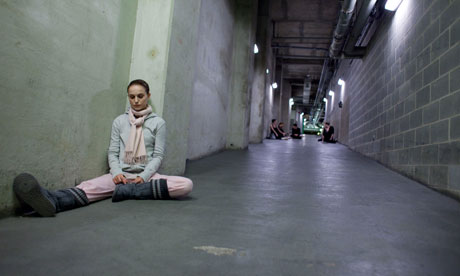 While the Globes give comedies their own category, the Academy Awards are always less likely to recognize the laffers, so it's unlikely that Natalie Portman -- who won the Globe for Best Actress in a Drama -- will find herself faced with having to unseat incumbent Anne Hathaway to get her hands on the prize. Last night's Best Actress in a Musical or Comedy winner Annette Bening will prove to be her toughest competition (and she definitely whooped her barre butt in the less-awkward speech category) with her emotionally relatable performance in director Lisa Cholodenko's labor of love The Kids Are Alright.
AND CAN WE TALK ABOUT TRENT REZNOR FOR A MINUTE?
Yes, I do think it deserves it's own subheading, because I'm pretty sure the panties of Gen X'ers everywhere involuntarily bunched when Trent Reznor appeared on stage to collect his prize for Best Score (The Social Network) not only sporting a grown-up haircut, but WEARING A TUXEDO. I think Twitter might have exploded.
TV -- NO OSCARS FOR YOU, BUT NOT CHOPPED LIVER
Glee and Boardwalk Empire were the clear small-screen winners of the night (which, by the way, can someone explain Boardwalk Empire to me please? It has all the ingredients for greatness and apparently all of the critics love it, but I really just could NOT get on board. What gives?!) Chris Colfer's (GLEE) acceptance speech for Best Actor just about gave me a heart attack from how freaking eloquent and graceful he is. And Katey Sagal was just about the most charming (and stunning!) thing ever accepting her award for Sons of Anarchy. Plus the look on Ed O'Niell's face was priceless.
IN CONCLUSION
The Globes continue to be one of Hollywood's greatest nights. The camaraderie of the film makers always manages to come through on-screen, and I love seeing some of the greatest filmmakers of our time loosen up a bit. Oh, and congratulations to Matt Damon on giving the first watchable Lifetime Achievement Award speech I've ever witnessed -- his tribute to DeNiro had my husband in stitches. And also -- I can't believe Ricky Gervais called Bruce Willis "Ashton Kutcher's Dad."
And now for the buzz from the blogosphere:
For the most part, the stars have been eclipsed by the fact that pretty much everyone in the Beverly Hilton Ballroom last night was offended by host Ricky Gervais at one point or another.
HUFFPO debates whether or not Ricky Gervais is sorry for unleashing his razor-sharp wit on everyone in sight. (Somehow, I doubt it.)
Meanwhile, Heckler Spray's Mof Gimmers had this to say:
The ceremony was buzzing with questions as Gervais went missing for nearly an hour. Rumours abounded that, after going in for the jugular almost from the off, Ricky had been fired backstage by the bosses of the show. Some idiots even speculated that he'd been taken to a parking lot and shot through the face with a great big gun (not that America has a fixation and problem with guns. God no...)

Anyway, Gervais kicked things off by ravaging Charlie Sheen, Scientology, Mel Gibson, Lost and Hugh Hefner...He also joked that he had to help president of the Hollywood Foreign Press Association, Philip Berk, to go to the toilet and "put his teeth back in." We bet he was thrilled, especially as Gervais made jokes about them accepting bribes.

What did anyone expect? A nice, safe routine? Either way, what everyone got wasn't too far from the level of comedic abuse you see at a Comedy Roast.
For the full list of nominees and winners, visit the HFPA official site -- HERE.
What do you think -- did Gervais go too far? What did you think of the show?
Morgan (The818) is a blogger and screenwriter living in Los Angeles. She overshares her personal life - complete with curse words - at The818.com, talks art and design over at Cargoh.com, and tweets: @the818.
COMMENTS