A Good Crust
Syndicated
Call me shallow, but I do judge books by their covers, and breads by their crusts. For most of the hearth loaves I bake, I'm looking for a gorgeously brown, thin, crisp crust that "sings" when it comes out of the oven and shatters under the knife on the cutting board. I don't always get it, but here are some things that help: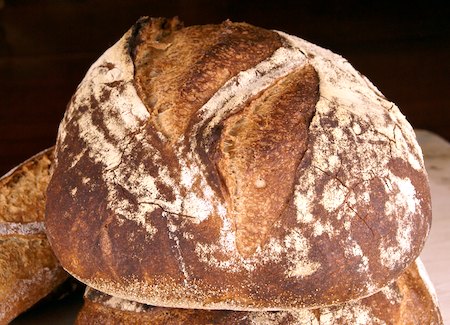 Steam the oven, but not too much. Steam promotes a rich, lustrous crust color and good volume, but too much makes the crust chewy rather than crisp, and makes your loaves look like they've been dipped in shellac. Some ovens hold steam better than others, so experiment with steaming methods, how much water you need to use, and when to open the oven door to vent the steam, to determine what's best for you.
Don't underbake. The baking times in recipes are guidelines. If your crust is too pale after the recommended baking time, bake it longer, to the darkness you like. It's hard to overbake bread.
Experiment with oven temperature. Again, the temperatures in recipes are guidelines. When I moved to my current home several months ago, I found that my results in my new oven are better with temperatures about 25 degrees above what I used in my old oven, even though my oven thermometer indicates that both ovens heat true to the set temperature. Go figure. I just know it works, so I do it. (That's Baking Rule #1, by the way.)
Don't overferment the dough. If the dough ferments too long, the yeast will consume all the sugars that would otherwise contribute to crust color, and the crust will be pale.
A small amount of diastatic malt in the dough helps promote crust color by increasing the conversion of starch into sugar.
Skip the fat and sugar. These work to make the crust soft. Sometimes this is what you want (think pan-baked sandwich breads), but lean doughs work better for crusty hearth loaves.
At the end of the bake, leave the loaves in the oven with the door ajar (propped open a bit with a wooden spoon). This drives off excess moisture.
Don't store your bread in plastic bags. This is the fastest route to softening your hard-won crust. Bread that will be eaten within a couple of days stays on my cutting board, cut side down, unwrapped. If I'm giving a loaf to someone, I put it in a paper bag. The rest goes in the freezer.
Notice that most of these suggestions rely on making adjustments according to your equipment, your environment, and your desired results. If you want a one-size-fits-all set of directions, bread baking is probably not the hobby for you, but I hear paint by number kits can be fun.
Comments
Recent Posts
by WildYeast
Our bloggers use the new ARM & HAMMER™ Truly Radiant™ Collection for a radiant smile. Read their posts where they share a few of their real-life experiences and advice on how to feel radiant day-in and day-out. Plus get a chance to win a $100!
Read more
Recent Comments
on Baking