The Good Wife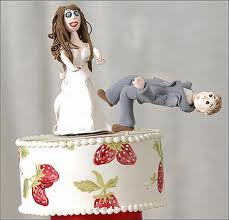 Are you tired of being the Good Wife? I'm sure you'll agree that when we say our vows we have the best intentions. Our twenty-something selves actually believe in the fairytale. We are dressed in a fluffy white dress looking like the icing on a cupcake. Yet, somehow this didn't tip us off that it wasn't realistic. So, we became the Good Wife. We all intended to be just that but it didn't matter how 'GOOD' we were, it all fell apart (or it is falling apart). Let's look at a fictional Good Wife. Alicia, from the top notch legal drama The Good Wife makes a great case study. You'll see the 'sacrifices' Alicia (played by Julianna Margulies) makes repeatedly for her husband's political career. Even after he cheats on her with prostitutes she continues her commitment to his cause. She clearly isn't a stupid woman since she has her own prestigious career as a defense attorney. In fact she is intelligent, elegant, beautiful and a good mother. So why does she continue this sham of a marriage?

to continue reading this post http://www.lisathomsonlive.com/the-good-wife/
ADD A COMMENT
Recent Posts
by Lisa Thomson
Most Popular
Chateau Ste. Michelle ALWAYS delivers remarkable wine experiences. We asked our bloggers to try Chateau Ste. Michelle wine and share the story behind their perfect sip. Read their reviews plus get a chance to win $100!
Read more
The enamel of baby teeth and new adult teeth is vulnerable to damage. Help protect your child's teeth for years to come by using ProNamel 6-12 Years Toothpaste. Read our bloggers' posts and see you should start your kids with using ProNamel 6-12 Years Toothpaste plus get a chance to win $100!
Read more