Greedy Gourmet: Profile of a UK Food Blog
BlogHer Original Post
Say hello to Michelle, the head cook and photographer at the food blog Greedy Gourmet. Michelle is a native of South Africa but fell in love with an Englishman and soon moved to the United Kingdom. "Ah, love!" she says.
THE BLOGGER
Name – Michelle Minnaar
Hometown – Essex, United Kingdom
Day Job – Full-time mother for now
Sharing Your Table – My family
THE BLOG:
About the Name – "[Greedy Gourmet is an] apt description of me."
First Post – March 2007
How Your Blogging Has Changed, Then vs. Now – "These days I take it more seriously, trying to post two recipes a week on average, plus a review (restaurant, product or gadget) and when possible a giveaway. My photography has also improved in the meantime."
How You Define Your Site – "It's mainly a recipe blog, but I do keep an eye on the food market regarding all things cooking, in the form of reviews."
"Elevator Description" – "Easy family recipes of international cuisines."
Standing Out from the Crowd – "Oooh, this is difficult because there are so many good blogs out there already. My photography helps to make my recipes stick out. A clean, well-designed theme/layout of the blog. Regular giveaways, readers love it!"
Hobby Blog or Part of a Career Plan? – "When I started out I didn't have a clear idea what I wanted out of my blog but now I'm secretly hoping to become a professional food photographer. Also, I'm in the process of starting an online cook shop selling quality cookware. These days anything is possible! "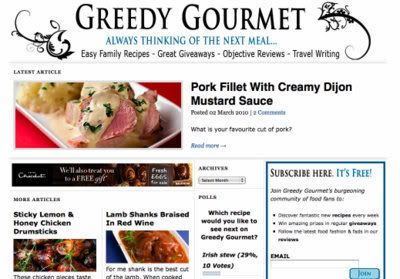 TECHNICAL STUFF
Blogging Platform – WordPress
Hosted By – Anno. "The support is simply the best!"
Ad Network – "I have dabbled with a few ad networks but none left me impressed. Now I sell ads directly to customers."
STATS
Pageviews per Month – 85,000
Page Rank – 4
Subscribers – 1200
Statistics Package – AWStats & Google Analytics
Tools to Attract Visitors – "I submit my recipes to sites like Tastespotting and Foodgawker."
Reader Profile – "Well, if the statistics packages are anything to go by my readership is 80 percent British. Most of the commenters are female."
POSTS
Posting Frequency – 2-4 times a week
Favorite Post This Year – Sticky Lemon Honey Chicken Drumsticks. "It just tastes so good!"
Surpringly Popular – Simple Butternut Squash Soup. "Every month this soup recipe is the most popular. I think it is because Brits only recently started discovering the pumpkin and don't know how to cook it so they start with something basic that works."
Deciding What to Post When – "I try to keep it balanced. Most recipes are real food people eat during the week, i.e. main courses and with a few desserts, starters and snacks in between. Also, I balance the meat recipes, i.e. I don't post 10 chicken recipes in a row but try to vary it a bit, i.e. beef, chicken, pork, lamb, fish, etc."
Recipes That Don't Work Out – "At first I reworked them, but it took a lot of time and effort. These days I chuck them and move on to new ones. There are millions of recipes out there, why get stuck on one?"
Cooking Groups – "I did Daring Bakers for a while, but discovered that baking just isn't my thing (being wheat intolerant doesn't help either). I learnt a tonne in those months and the community spirit is great, but in the end I got fed up with the rules and regulations plus had a problem having to commit to make something I won't enjoy eating."
Time Spent on a Post – "Ugh, too much! Minimum five hours."
Time Spent Blogging including Twitter and "Community" – "I've never tallied up the hours. Ball park figure ... 20 hours, i.e. all my free time when my young son is asleep."
PHOTOS
Camera & Lenses – "Started with a Canon 350D, then got a 400D, now have a 5D. The lens I use primarily is a Canon 50mm f/1.4"
Location – "[I shoot ...] in our leaky conservatory, which is way too hot in the summer and icy cold in winter. Can anyone explain the point of them?!"
Photo Style – "That's difficult to explain. It's all based on emotions. Some photos just "feel" better than others. That's why I take a tonne of photos at different settings and angles of one dish so that I can be extra fussy when choosing the best one."
Personal Photo Tricks? – "Nope. Practice makes perfect. Going on a photography course helps."
Favorite Photo This Year – Sticky Lemon Honey Chicken Drumsticks
RECIPE INSPIRATION
Sources of Inspiration – "Mainly cookbooks, a few magazines and sometimes blogs."
Favorite Cookbook This Year – "I don't have favourites."
FRIENDS
Blogs in Your Feed Reader – "None. I know a few bloggers personally and I might peek at their sites now and again, but being a full time mother I just don't have the time at the moment."
Three Sites You Love, for Inspiration – La Tartine Gourmande, Matt Bites, Smitten Kitchen
Three Sites New to You – Mowielicious, VeggieBelly, and The Catty Life."
Three Sites You Comment On Regularly – None, don't have the time.
Three Bloggers Met in Person – Fellow transplanted South African Jeanne from Cook Sister, fellow expatriate Johanna from The Passionate Cook and Solange from Pebble Soup
COMMUNITY
Community Contributions – "By having a food blog. ☺"
Twitter & Facebook Impact – "I'm not heavily into social marketing yet but I'm looking into it."
SOCIAL MEDIA
Twitter address coming soon...
BlogHer food contributing editor Alanna Kellogg longs for warmer climes but in the mean time, keeps warm with big bowls of Chicken & Wild Rice Soup.
More Like This
Recent Posts
by Alanna Kellogg
Our bloggers are great fans of American Idol from way back when the show aired 14 seasons ago! Well just so you know, it just started! Watch American Idol every Wednesday and Thursday 8/7 on Fox.
Read more