Halloween Memories — Barbara Steele
Original post on xoxoxo e
Some of my fondest memories are of watching scary movies with my dad when I was a kid. Many of the movies have become favorites of mine as an adult when I have had the chance to see them again - Curse of the Demon, starring Dana Andrews, Jacques Tourneur's Cat People, and when I was a bit older, Roman Polanski's Rosemary's Baby.

I have always looked forward to Halloween, not just for the costume and the candy (which of course is big), but for the fact that a lot of these old scary movies would be pulled out and shown on late night or cable television. There are many movies which have made a big impression on me, but also a precious few that seem to have fallen out of regular rotation, even on channels like TCM.
Barbara Steele in Castle of Blood
Two of these lost favorites are Italian horror films and star 60s scream queen Barbara Steele. Castle of Blood, is actually available for sale on TCM's site. The synopsis:
Prepare yourself for the terror that awaits you across the pond in Castle of Blood (1964). Edgar Allan Poe (Silvano Tranquilli) travels to London and makes a wager with a British journalist (Georges Rivière) that he cannot spend an entire night in a haunted castle. Upon accepting the wager, his first night is filled with visits from beyond the grave, of souls who are damned to replay the stories of their demise on the anniversaries of their deaths.
What I most remember is the twist ending — which of course I won't give away here, and Barbara Steele's completely creepy but sexy leading lady vibe. It was easy to see how the hapless hero played by Georges Rivière would fall for Steele.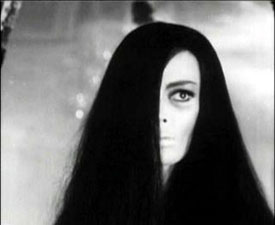 Spooky Steele in a scene from Nightmare Castle
In Nightmare Castle Steele plays two roles, sisters Muriel and Jenny Arrowsmith. She gets to be a blonde and is as creepy and gorgeous as ever. The synopsis:
A sadistic count tortures and murders his unfaithful wife and her lover, then removes their hearts from their bodies. Discovering that his wife has drawn up a new will giving her fortune to her institutionalized sister, the count marries his sister-in-law. The new wife experiences nightmares and hauntings. The ghosts of the slain return to exact their bloody revenge, until their hearts are destroyed.
Yikes! The movie is actually in the public domain, so enjoy!
ADD A COMMENT
We asked our bloggers to craft some recipes from the different Success® Rice flavors and tell us about it. Check out their ideas and you could win a $100 Visa gift card!
Read more
Lean Pockets have no artificial flavors, a good source of protein & have 100% real cheese. Read our bloggers posts where they will tell you their guilt free experiences with Lean Pockets. Plus get a chance to win $100!
Read more