Healthy Alternative To Soda: How To Make Water Kefir
Syndicated
How do you "take care" of water kefir grains?
I try to make sure I change the water (start a new batch) every 48 hours. However, sometimes I forget and they ferment too long and run out of food. This can damage the grains. At one point, I noticed my grains weren't multiplying, so I strained them and washed them by stirring them (rather vigorously) around in filtered water. Then I put them a quart-sized mason jar full of filtered water with 1/4 cup of turbinado sugar and 1/4 tsp of molasses. I let the kefir grains "rest" in the refrigerator for about a week before I rinsed them and started a new batch. Immediately, the grains started multiplying again and making delicious kefir.
What do you do with extra grains?
Since healthy water kefir grains multiply, you will be left with extra grains. I use those grains in smoothies, give them away, and sometimes eat a spoonful plain. I know...the thought of it kinda grosses me out too, but they don't really have any taste.
How do I know if my water kefir grains are "working"?
You will see bubbles rising up from the grains and the kefir will have a slightly fermented taste. Try the sugar water mixture before adding the grains by pouring a little into a separate cup (you don't want any contamination) and then try it again after 24-48 hours, and you should taste the difference. It also changes color.
Do you rinse your grains each time?
No, I'm lazy so I rinse them about every other batch.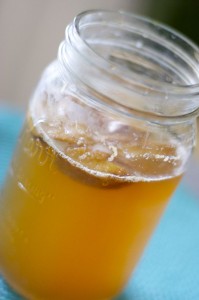 Can you flavor water kefir?
Yes. After the initial fermentation, I sometimes remove the grains and add dried fruit. I'll let it sit on the counter for an extra night or two. I've also heard you can use vanilla extract or lemon but I haven't tried it.
Where do I buy water kefir grains?
Personally, I have never bought water kefir grains. I got mine from a friend. My suggestion would be to start on Facebook and ask if any of your friends make water kefir. You never know what your friends might have brewing behind closed doors. I got my first kombucha scoby from someone on Facebook—I had no idea they were into health. If that doesn't work, you could always look on Craigslist. Lastly, I've seen them for sale on the internet but since I have never bought them onlin,e I can't vouch for any of the website. If anyone has purchased them online feel free to share your source.
Hugs and High Fives,
Jenn
If you enjoyed this post you can follow one of three ways!

"like" Girl Heroes on Facebook, or
Sign up to have posts emailed to your inbox. Simple dimple!
Be inspired to follow you dreams at New School Nomads as we take a year long RV road trip through the United States!
[
BlogHer Food '12 will bring food bloggers together to learn, share, inspire, and of course, to EAT! Whether you're new to food blogging or an old pro, you should join us in Seattle, WA on June 8-9, 2012 -- register now!]
Comments
More Like This
Recent Posts
by jennincat
Help protect your family from the transmission of harmful bacteria and viruses! Use Lysol's Full Bathroom Range to remove soap scum, lime scale, and everyday dirt and grime to leave your bathroom smelling clean and fresh.
Read more
FoodSaver® Reviews & Giveaways
Save time, money and space with the FoodSaver® Vacuum Sealing System! Air is the enemy of freshness and FoodSaver® vacuum sealers remove and lock out air and moisture. It keeps food fresh up to 5x longer! Read our bloggers' posts and know more about FoodSaver® plus get a chance to win $100!