Holiday Home Tour: Casa Verde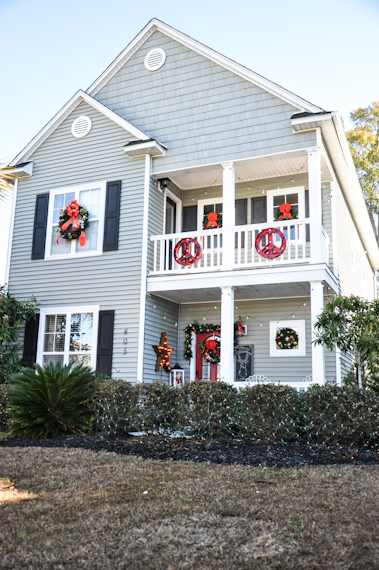 WARNING!!!! This is a long post…… which you will love and not mind sitting and looking at. Women, prepare to drool. Men, prepare to hold onto your wallets, while your lady loves get more decorating ideas. In fact, Men, you might just go shopping too!
I am soooooo excited about this Holiday Home Tour!
I have the sweetest friends who were nice enough to let me invade their BEAUTIFUL home the other morning and take a few pictures. When I first thought about doing a Holiday Home Tour, they were the first ones I thought of and I am just so happy that they agreed to let me come on in!
Machel and Jerrad are the very talented owners of Vintage Marquee Lights. They create the COOLEST Lighting Art you will ever see. If you get a chance, check out their site here.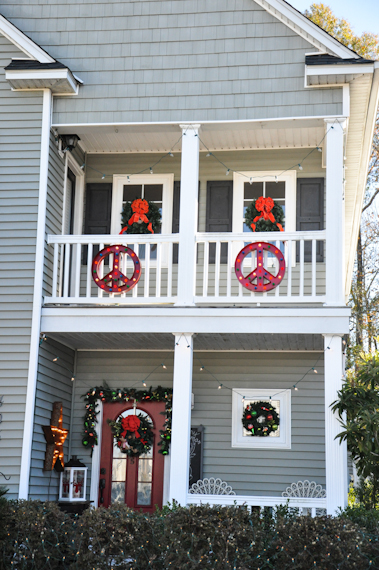 They have a Charleston style home in a neighborhood near mine and let me just tell you, it is GORGEOUS!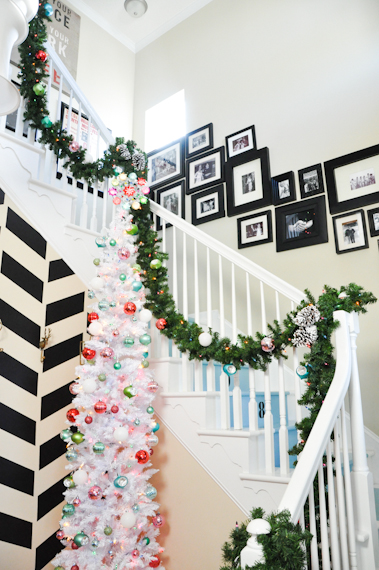 Inside, the foyer welcomes you in with a stunning white Christmas tree, decorated with vintage style ornaments. Machel painted the wall treatment herself that stands behind it. The garland that goes up the stair case is adorned with the same style ornaments.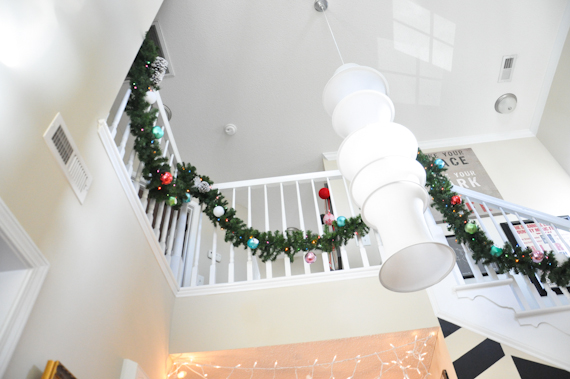 The grand light in the foyer is practically an art sculpture itself.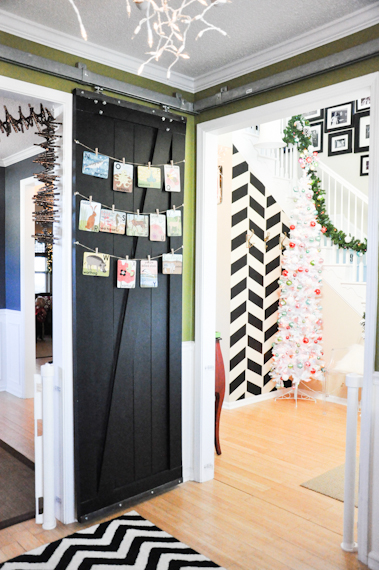 To the left of the foyer is the most adorable little playroom/den for their son. I'm so jealous of these sliding barn doors that Jerrad and a friend made themselves. At least I know who to call when I want to tackle the project in my own home!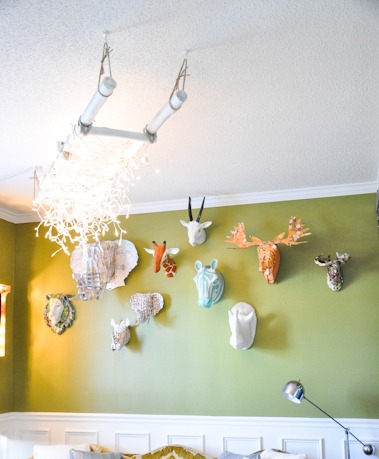 Here is a view looking in to the room from the foyer. Seriously! They have more creative talent in their pinky finger than I have in my ENTIRE body!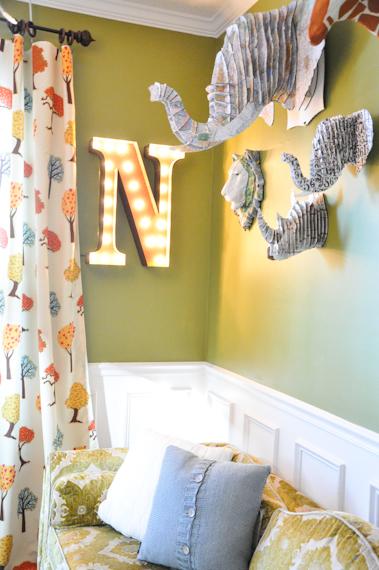 I love how they decorate with their products throughout their home.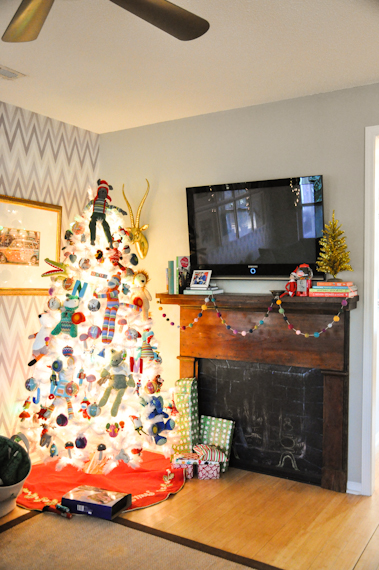 Towards the back of the house is the living room and kitchen area, with the most adorable little fireplace. The chalkboard fire casts the cutest little "glow". ;)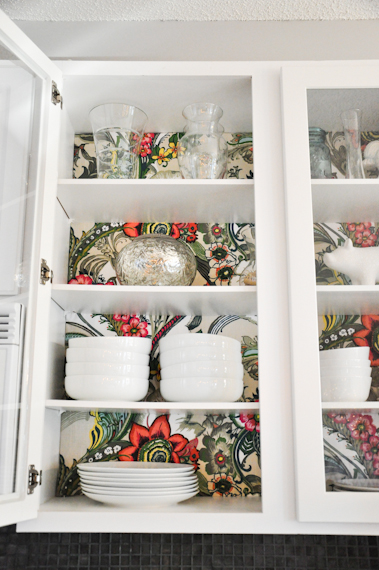 Machel didn't want to go for just ordinary white cabinets when she was decorating her kitchen. So, she took some of her favorite fabric and pieced it behind the wood trim, hiding the seam. The shelves also help keep it in place. The result is stunning!
I really love this idea, so grab those extra remnants of fabric people and DO NOT throw them out!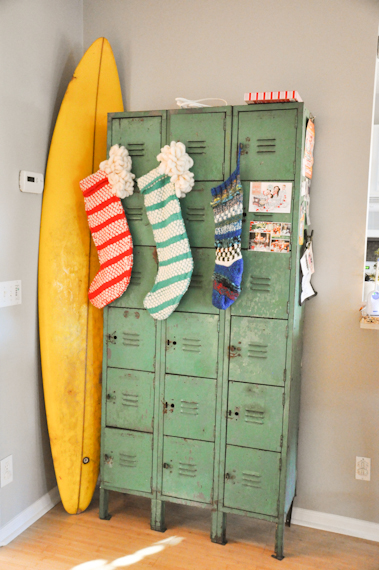 A set of old vintage lockers hold their stockings in the corner, while a surfboard still reminds you that the beach is only minutes away.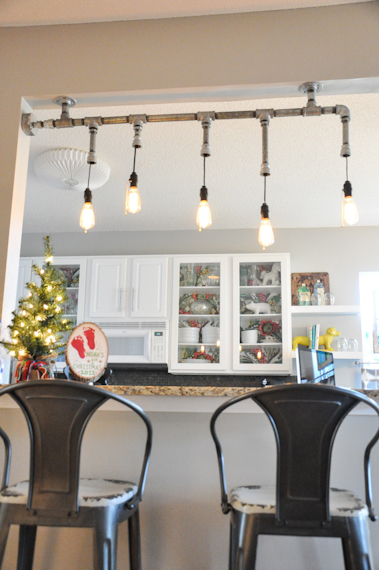 The industrial style light fixture (WHICH I ABSOLUTELY LOVE) hangs over the bar area, where a cute little table top tree stands watch.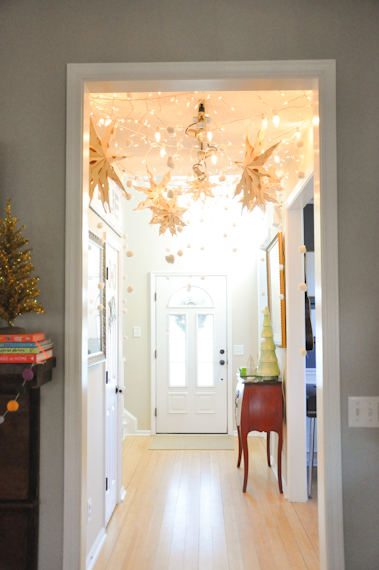 Towards the middle of the house, a magnificent display of twinkling lights and paper stars hang.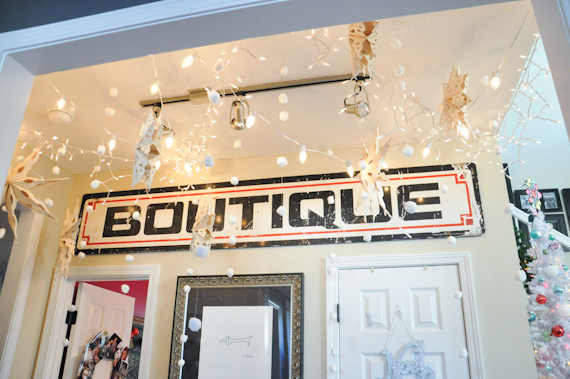 View from the dining room.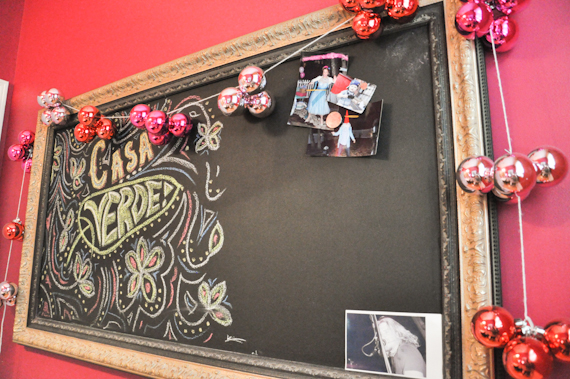 A quick peek inside the downstairs bathroom, shows a chalkboard lined with garland made from ornaments, a DIY project of Machel's. "Casa Verde" is the name Machel and Jerrad gave to their home. Mine would read more like "Casa Loco". In case you are wondering what mine might translate to, it would be "CRAZY HOUSE"!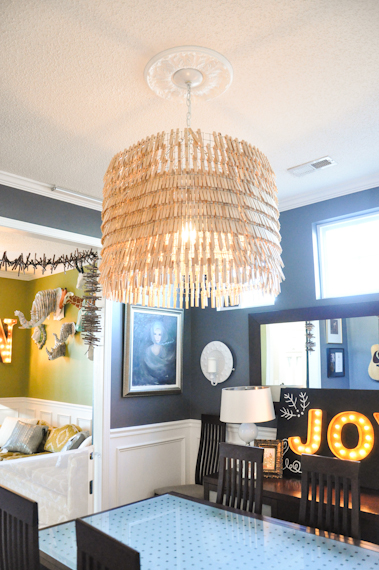 Another DIY project in the dining room, is the Chandelier. If you take a closer look, you will see that it is clothes pins that make up the body of the chandelier. CLOTHES PINS, PEOPLE! Why didn't I think of that?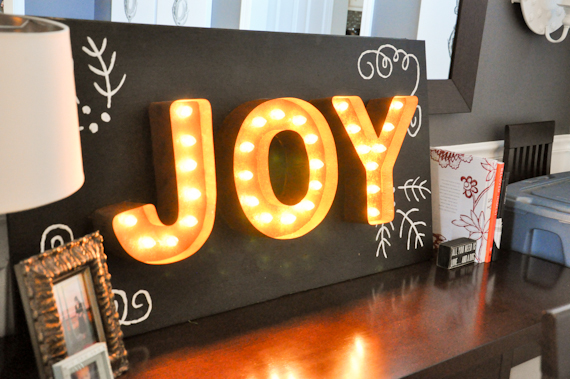 The letters that spell "Joy", very appropriate for the Holidays, is a creation of Machel and Jerrad's and can be purchased on their site as well.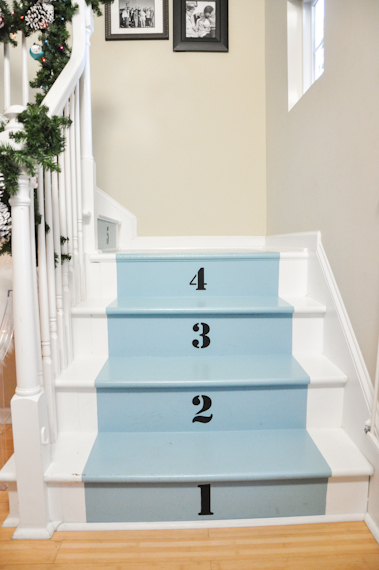 If I ever convince my hubby to let me remove the carpet on our stairs, this is exactly what will go in it's place. I cannot express how much I love this!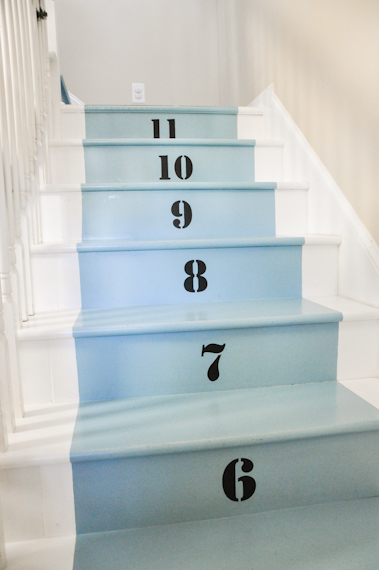 I love how the stairs continue to count up as you go. It adds so much character to the home.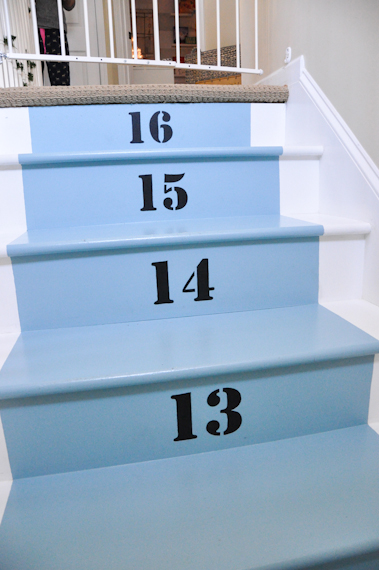 It just goes to show you that you don't have to buy an old home in order to obtain that character. You can have a new home and put some of that character into it yourself!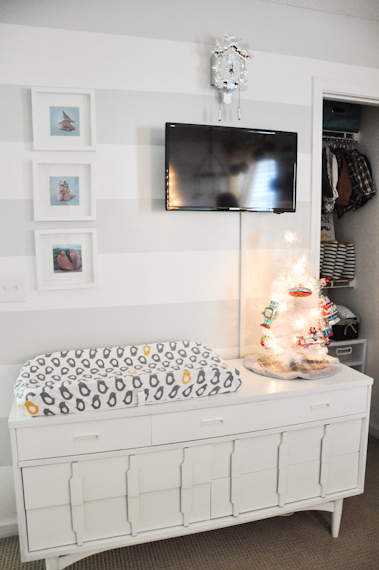 On to the baby's room! This little boy is very lucky! This is one of the most stylish baby rooms I have ever seen.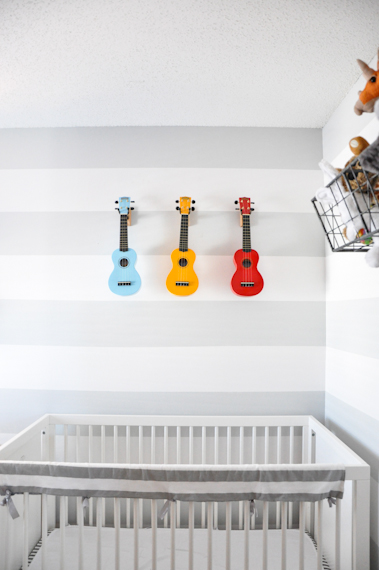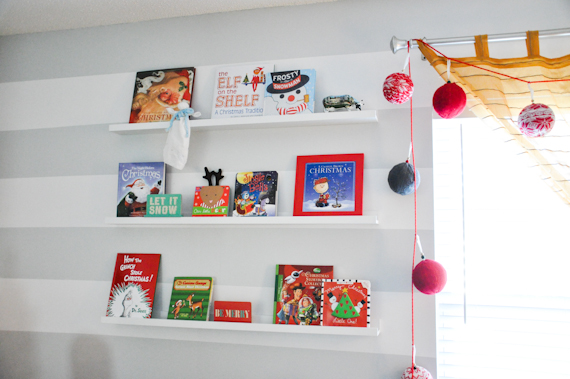 Christmas books double as art pieces on IKEA shelves, lining the wall.
Trending Now
More Like This
Recent Posts
by Babies and Biscuits
Mom has a lot to check off her list this Summer, and Kellogg's cereal can help her get it done. How will you make the most of your Summer? Check out our blog posts as we share with you inspirational ideas for celebrating the moments of magic that will happen during this activity-filled time of year! PLUS enter for a chance to win as $100 Walmart gift card!
Read more
Chinet® Cut Crystal® Reviews
With a little help from the Chinet® brand, bloggers show us how to plan a fun event. Read their posts and enter for a chance to win $100 and a Chinet gift pack!