My Hollywood Night at the Critics' Choice Movie Awards
BlogHer Original Post
4:05pm: The car was twenty minutes early, but I'm not ready. My dress and shoes are waiting on the bed, but my face is still makeup-free. My husband Jeff, due to walk the red carpet in under an hour, starts to think about something to wear.
4:53pm: We're climbing into the shiny black Mercedes when I ask my husband to give me a final once-over. The sunlight reveals that my undergarments are showing, so it's back inside for a few adjustments.
5:10pm: The car inches down Sunset Boulevard approaching the Palladium, site of the 2011 Critics Choice Movie Awards. The large stickers on the windshield of the car indicate that our destination is the red carpet, and the number indicates to the publicity staff that it is my husband who is inside. Our driver makes the turn to join the line of other similarly marked cars. The butterflies in my stomach speed up.
5:13pm: Exiting our vehicle, we're immediately put in a holding pattern at the beginning of the press line to wait for the actor that my husband is going to do press with. As a director, Jeff's publicity obligations are different from on-screen talent. Unless you're very well-known or promoting a nominated film, directors and producers do not typically walk the red carpet alone at these types of events. We're attending the Critics Choice Movie Awards because the cast from Jackass 3D, a franchise my husband created, filmed spoofs of all the Best Picture Nominees to air during the awards show.
5:25pm: Being "stuck" waiting on our friend turns out to be the best spot in the house. In the moments between their arrival and their first pose for the cameras, I am just steps away from A-listers such as Natalie Portman, Nicole Kidman, Quentin Tarantino, Ryan Gosling, and Jeff Bridges. There is a nervous energy amidst all of the pretty dresses and oversized jewels.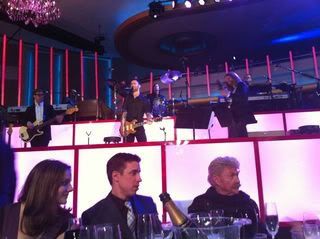 5:54pm: The actor we're waiting on arrives and the show is due to start in six minutes. We skip to the middle of the very long press line, and the duo does just a few outlets while I try to stay out of the way. I always find this part awkward. The challenge of being a "plus one" is seeing everything while staying invisible. I scoot myself to the far end from where we've been waiting and watch my husband answer a few questions, snap a few photos, then hurry to join me. He hates being in front of the camera.
6:02pm: The live show has already begun and we sneak to our table during the first of the Jackass spoofs. At my seat is a plated dinner prepared by Wolfgang Puck and a set of earplugs. I don't understand the earplugs until the first commercial break, when Maroon 5 busts into the chorus of "This Love." Our table was directly in front of the band, so close I could read Adam Levine's tattoos.
7:50pm: The awards show has been a blur of surreal moments. More than once I grip my husband's leg under the table and give him crazy eyes, meant to convey, "Can you believe who is on stage right now?" Never, in all my outlandish daydreams, did this Oklahoma girl expect to be sitting in the same room with Amy Adams, Helena Bonham Carter, Aaron Sorkin, and Steven Spielberg.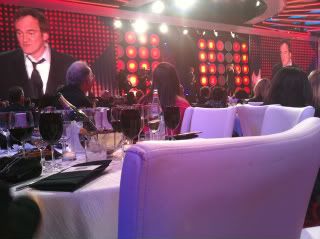 8:06pm: The show is over and we've decided to check out the after-party, at least for one drink. The evening went quickly, the spoofs Jeff produced went over well, and the champagne is starting to go to my head. As we navigate through the sea of tables and lingering guests, we are stopped abruptly by a large party going the opposite direction. Robert Duvall passes, and I let my breath out.
10:34pm: Expecting only to stay at the after-party for a few minutes, I'm surprised when I see the time. Mini crab cakes and fried mac-n-cheese balls are on passed trays; there are cupcakes a-plenty; and after all these hours, the people-watching is still fascinating. There are so many interesting people to see and meet that we've barely made it past the entrance. I can see a mostly empty dance floor inside, but we stay in the crowded front room, a white tent with sparkly chandeliers. My husband, who generally does not care for these kinds of evenings, is in the corner with old friends and new acquaintances and they're laughing loudly. I sip my wine and know that it's almost time to relieve the babysitter.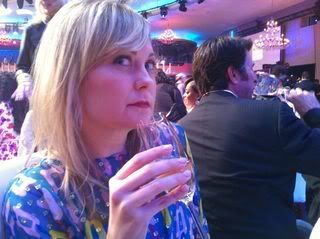 11:40pm: The driver picks us up just outside the tent and, as we always do, Jeff and I dissect the evening together. When we're almost home, he gets quiet and absorbed in the emails coming in on his phone. Some part of his brain is always working. I give the driver shortcut directions to avoid Hollywood traffic, then settle back into the heated seats. No matter how often they happen, nights like this will never be normal.
Laura Tremaine is a Hollywood Housewife. No, really.
Comments
Recent Posts
by hollywood housewife
From wipes, to bleach to clean up spray, Clorox covers all your clean, sick-free home needs. See why our bloggers use Clorox products in their home plus get a chance to win $100!
Read more
Most Popular
on News & Entertainment
Recent Comments
on News & Entertainment