Homebirth should be a Choice, not a Controversy
A recent study published by the Midwives Alliance of North America (MANA) has shown that for planned homebirth there is no increase in negative outcomes versus hospital birth but there is a substantial decrease in interventions and c-sections. I was very excited to see that there was finally a well done study showing the safety of homebirth and was hopeful it would finally help put the controversy over homebirth to rest. Unfortunately, a few days later a second study came out by New York-Presbyterian/Weill Cornell Medical Center which showed an increase in neonatal mortality for babies born at home verses at the hospital when using the services of a midwife. And with the publication of these two studies on homebirth, it seems the controversy over the safety is unfortunately picking up again.
So what does it mean? Which study is right? Who should we believe? Research on the safety of homebirth is notoriously flawed so it's really hard to determine how accurate and trustworthy any study is and the two new studies are no exception. The MANA study is based on information provided voluntarily by member midwives so opponents to homebirth question its accuracy, citing the possibility that negative outcomes were not submitted and included. The second study is based on birth certificate data which is hard to glean real results from as these kind of studies do not (or more often, can not) weed out unassisted or unplanned homebirth which are (logically) more risky. So how do we know the real safety of homebirth?
I think the answer is easy: we don't know. There is no accurate, quantifiable answer to how safe homebirth is. What there is, though, are real numbers on other aspects of birth like a national c-section rate nearing 33% (that's 1 in 3 babies!!!), an induction rate somewhere around 25%, increasing maternal mortality and maternity morbidity that has more than doubled in just 10 years!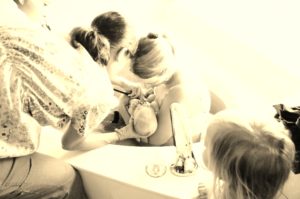 I'm a big believer in a woman choosing the birth that is best for her and I am extremely pro-homebirth. After two hospital births (my first was induced and my second was a waterbirth), I chose homebirth for my third birth last May. And while I know that homebirth is not a good option for every mother, I am frustrated by the drama surrounding how women choose to bring their babies into the world. I strongly believe that homebirth is about women having a CHOICE and should not be made into a controversy.
I believe ALL women need more education on the process of birth, their options for birthing as well as all the "ifs ands or buts" of what could happen so they can then make an educated decision for what kind of birth they would prefer and would best suit them. I also believe women need unrestricted access to their choices. I am fortunate that I am in a state where certified midwives are licensed and policies are in place to help ensure good outcomes and I was easily able to find a licensed midwife in my area. Unfortunately not all women have access to a legal, certified midwife to assist them with delivery at home.
Currently, homebirth accounts for less than 1% of all American births (but that rate is increasing rapidly) but what surprises me the most is that the majority of women choosing homebirth are older, white, married, and well-educated. One article I've read recently even described homebirth as a "white woman's problem" (I really wish I could cite this source, but unfortunately I don't remember where I saw it!) and basically discounted the need to even discuss it because apparently white women are the only ones that care.
I find this a highly offensive and concerning belief, assuming that women like me are the only ones who WANT to birth at home. I think this is far, far, far from the truth! I think if more women were educated on their options and had easy access to all options, many more might choose a different way. I definitely think more women overall would avoid hospital births (as I did) if they were more educated about the dangers and prevalence of many hospital protocols and interventions and the general inability for women to have a say in how their experience goes.
I know as well as anyone that pregnancy and birth are unpredictable and may not always go the way you want or planned, but that doesn't mean women should follow their doctor blindly. It has been said by homebirth opponents that with the (possible) increase in infant mortality, women who choose homebirth need to be prepared to accept the consequences should their baby die because of their choice. But I believe it's a two-way street, women who choose hospital birth (and especially elective cesarean) should be prepared to face the consequences for themselves and their babies should things go awry there.
All anyone wants is a healthy baby and a healthy mom, but that is unfortunately not a guarantee no matter how you want to give birth or how you actually give birth. Complications can arise at home and complications can arise at the hospital. When at home you may not be able to make it to help in time but at the hospital you may be forced into unnecessary, extreme solutions to minor problems which could have adverse outcomes.
There unfortunately no "one size fits all" solution. Our maternity system is broken in so many ways and for so many reasons but it should not be a debate of hospital versus home, but rather woman versus institution. Who really has the final say? Who should have the power to make the tough decisions? Where do we go from here?
Comments
More Like This
Recent Posts
by BeyondMommying
From wipes, to bleach to clean up spray, Clorox covers all your clean, sick-free home needs. See why our bloggers use Clorox products in their home plus get a chance to win $100!
Read more
Recent Comments
on Health