The Best Homemade Beauty Products for Less
BlogHer Original Post
After doing my post on green cleaning, I started thinking about how much money I was saving by not buying commercial cleaning products and how much safer I felt my family was without being exposed to all those chemicals. I started thinking of other ways to cut chemicals and unnatural products out of our lives and decided a great place to start would be some beauty items.
I'm not fancy -- I'm mostly a Chapstick-and-mascara-hair-in-pony kind of girl -- but I'm a sucker for a smelly lotion or delicious lip balm. So I started hunting around Pinterest and blogs that boast natural or raw living ideas. I came up with four products I wanted to start making, and one afternoon, I got to work. I ended up with lip balm, body butter, sugar scrub and lotion bars.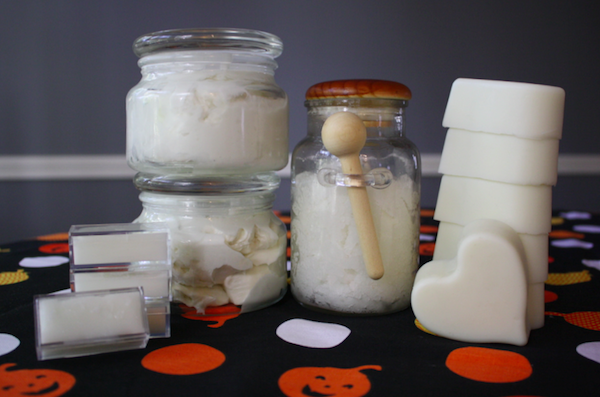 Lip Balm
The lip balm was one of the things I was most excited about. I seem to go through it at an extraordinary rate. I get tired of shelling out the money, even for my cheapy Vanilla Lip Smackers. (I know, but I can't help myself! I swear I'm 30, not 13.) I really cringe to hand over $3 or $4 for something a little fancier.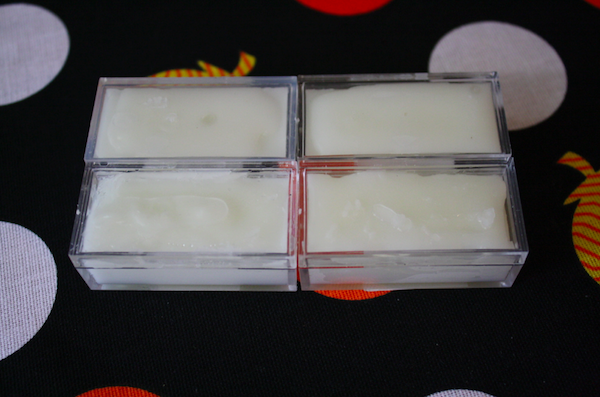 To make the lip balm I used:
2 T. beeswax
4 T. natural oil (I used safflower, but I've seen sunflower used as well. I assume olive oil would also be a good option)
Few drops of strawberry flavor
I simply melted my beeswax and oil together in a bowl in the microwave until melted. Added some strawberry flavor to it and stirred well, then dumped it in my pots. I found these pots for $.79 each and they hold .5 ozs. I only got four, but ended up with enough lip balm left over to make probably two more. I put what was left into an old baby food container and gave it to my four-year-old.
Cost break down:
$1.12 for beeswax
$.33 Safflower oil
$.35 strawberry oil
Total cost: $1.80 for 4 pots
I had leftovers, but I just did the math for what I had here. Each pot of lip balm cost me $.45 for half and ounce. My lip smackers run $1.49 these days and are .14 ozs each. Mine - $.90 per ounce. Others - $10.43 per ounce.
Body Butter
I LOVE body butter. It's so silky and smooth and has an amazing ability to soften any part of your body, no matter how rough. I have this weird thing with my feet, and I have to slather them with lotion before I go to bed every night. If it's not good lotion, I'll wake up in the middle of the night and they'll be too dry and I'll have to lube them up again. I love body butter for this exact reason -- it keeps them nice and hydrated all night and most of the next day. The thing I don't like about body butter? Its price tag!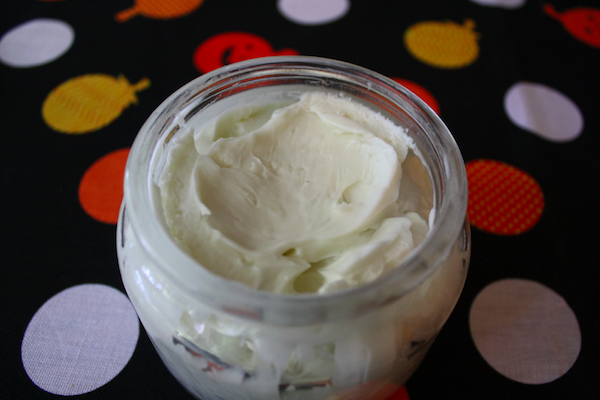 To make the body butter I used:
1 c. shea butter
1/2 c. coconut oil
1/2 c. almond oil
A few drops of lavender oil I had on hand
I put all the ingredients into a large bowl inside a pot of water on the stove and simmered until it melted. Once it was all liquid, I put the bowl in the fridge. It was taking too long to firm up, so I stuck it in the freezer instead.
Once the liquids had turned back to almost a solid state, I used my hand mixer to whip them. The consistency is something like icing and it smells heavenly! I put my body butter into these jars. I grabbed them 50 percent off and gave one to a friend. Each jar was 8 oz (they're not stuffed, but nicely filled) and is perfect. You have to be careful not to get this body butter too warm or it'll "melt" back into a liquid. If that happens you'll need to melt it all, freeze it again and re-whip it back into butter.
Cost breakdown:
Shea butter - $13.44
Coconut oil - $2.48
Almond oil - $4.24
Total cost: Three 8 oz jars = $20.16
Mine - $.67 per ounce. Others - $2.14 per ounce
Comments
More Like This
Recent Posts
by sewlikemymom
The LG Top-Load Washer has the largest capacity in top load washers in its class while the EasyLoad™ Dryer allows users to easily transfer clothes through the top to minimize bending and dropping clothes on the floor making it easier than ever to drop in and unload laundry! Read more and see how you can simplify the household chores.
Read more