Homemade Oatmeal Cookie Ice Cream Sandwiches
Featured Member Post
Making these little cookie ice cream sandwiches made me so happy today! My favorite little twins are coming over and I was going to buy one of their favorite desserts, ice cream sandwiches, but decided instead that I would create healthier and tastier ones. So I baked oatmeal cookies made with whole wheat flour and my favorite Bob's Red Mill rolled oats, stuffed them with good vanilla ice cream, rolled them in semi-sweet chocolate chips and voila! I'm just crazy about them and might have to eat one with the kids. If you want to put a smile on a kid's face (or your favorite adult), this is a sure bet! Get creative by making your favorite cookies and buying your favorite ice cream – the options are limitless!!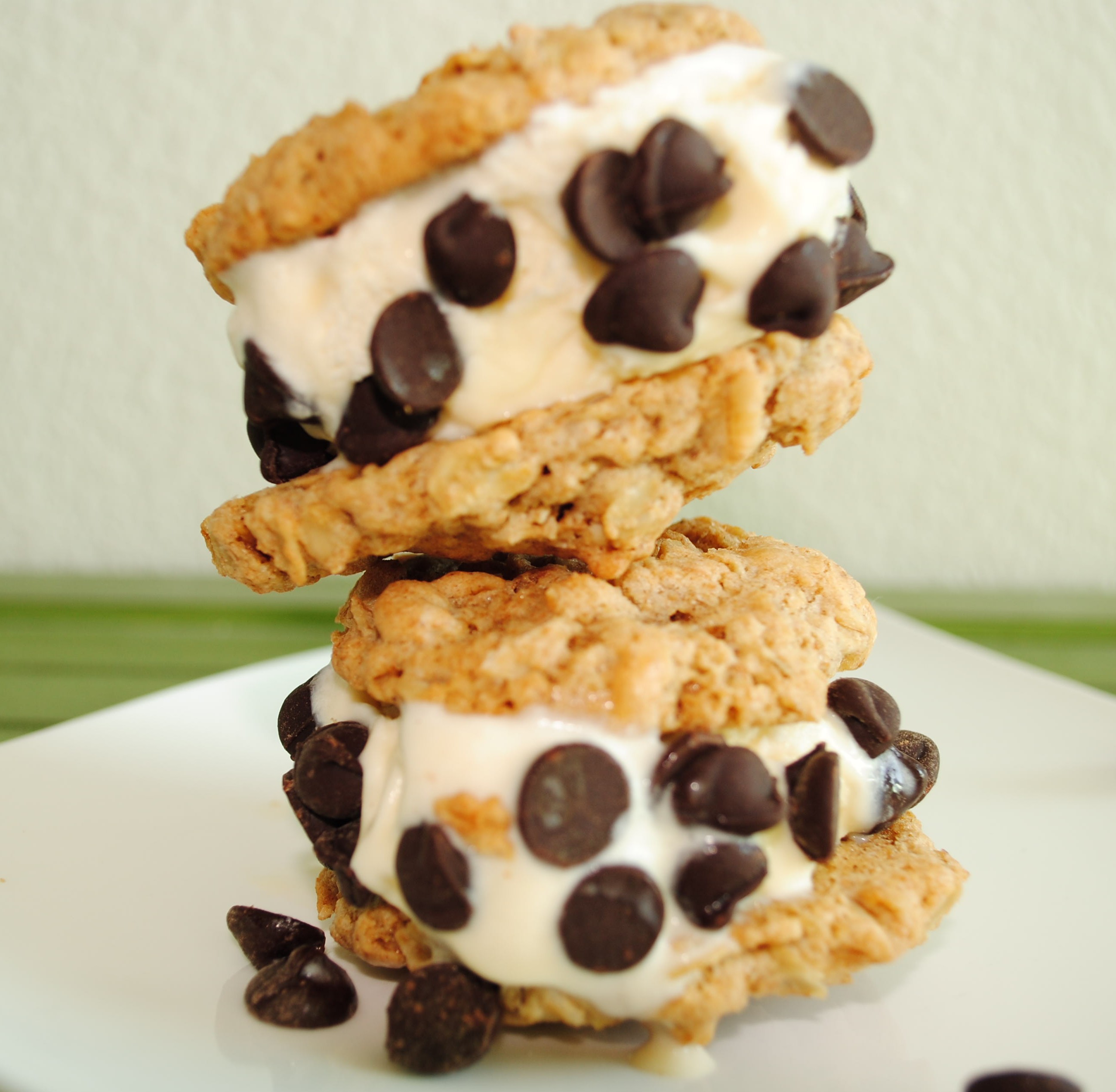 Ingredients
2 cups whole wheat flour (white whole wheat if you can)
1 teaspoon baking soda
1/4 teaspoon salt
1 3/4 sticks butter, room temperature
1 1/2 cups granulated sugar (or less)
1 teaspoon freshly grated nutmeg
1 teaspoon ground cinnamon
2 large eggs, room temperature
3 cups rolled oats (I prefer Bob's Red Mill)
optional, 1 cup raisins
vanilla ice cream
semi sweet chocolate chips
Instructions
For the cookies, in mixing bowl combine all the dry ingredients except the rolled oats.
In separate large bowl, beat the butter with the sugar until creamy. Add the vanilla extract and the eggs, one at a time and beat after each egg. Continue to beat on low until incorporated (less than a minute).
Stir in the oats. If you'd like to add raisins you would add them at this time.
Drop rounded tablespoons on a parchment paper lined cookie sheet and bake at 350 degrees F for 10 minutes. Turn the pan around and bake for another five minutes or until light golden brown.
Let cool completely on rack.
To assemble ice cream sandwich, put a big scoop of ice cream on flat side of one cookie. You can push it down with your hand (covered with a little plastic wrap or paper towel so your hand doesn't get ice cream on it).
Put another cookie on the top and roll the sides in the chocolate chips. Serve immediately or put individually in freezer.
Comments
More Like This
Recent Posts
by Garlic_Girl
Help protect your family from the transmission of harmful bacteria and viruses! Use Lysol's Full Bathroom Range to remove soap scum, lime scale, and everyday dirt and grime to leave your bathroom smelling clean and fresh.
Read more
FoodSaver® Reviews & Giveaways
Save time, money and space with the FoodSaver® Vacuum Sealing System! Air is the enemy of freshness and FoodSaver® vacuum sealers remove and lock out air and moisture. It keeps food fresh up to 5x longer! Read our bloggers' posts and know more about FoodSaver® plus get a chance to win $100!